Being a parent is probably one of the most beautiful things that can happen to a person. Having a baby is a very exciting, but also challenging experience, especially if you are a parent for the first time.
However, whether it is the first baby, or the second, third, etc., the fact is that every parent wants their child to be as safe as possible at all times and in all places. Parents today have a lot of duties, both at work and at home, and the fact is that babies need a lot of attention, right? Therefore, sometimes it can happen that mom or dad just does not pay enough attention, and the baby somehow falls or is injured in some other way. Of course, we think of babies in the period of 6-9 months because then they crawl, or slightly older babies who walk (18 months).
Either way, no one wants incidents that could end in injury, especially not if the babies are involved. It's just that babies don't know how to take care of themselves, so adults have to help them. Fortunately, today we have some products that help us do some other chores in the house without worries while the baby is playing or doing whatever else the babies do.
So, what we're talking about are baby fences. These useful things will allow you, for example, to prepare lunch, or to watch a new episode of your favorite series, while your baby plays carefree, safe inside the fence.
Therefore, below we will present you some of the best ones you can find on the market in 2023. So, if you're ready, let's get started.
1. The North States Ultimate Superyard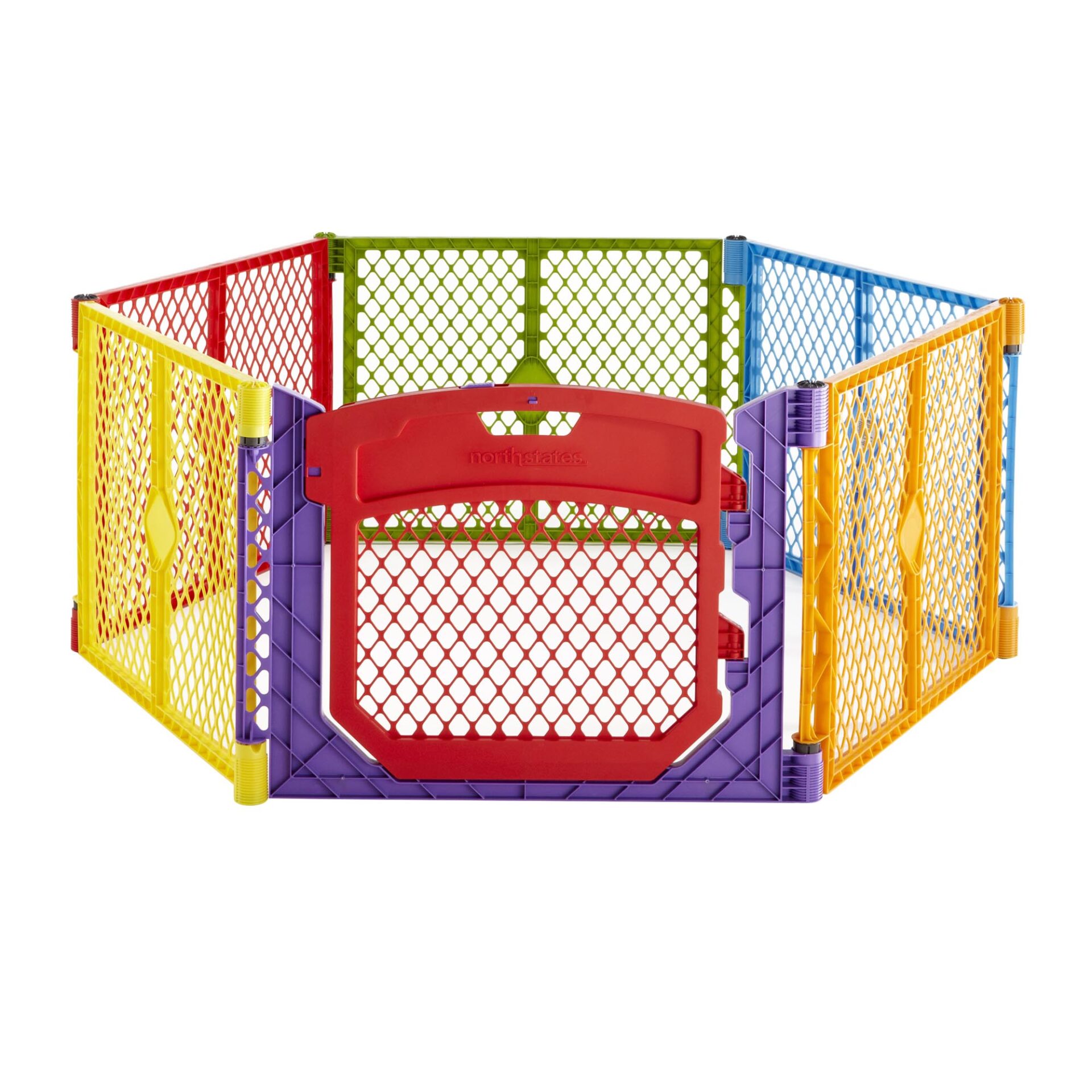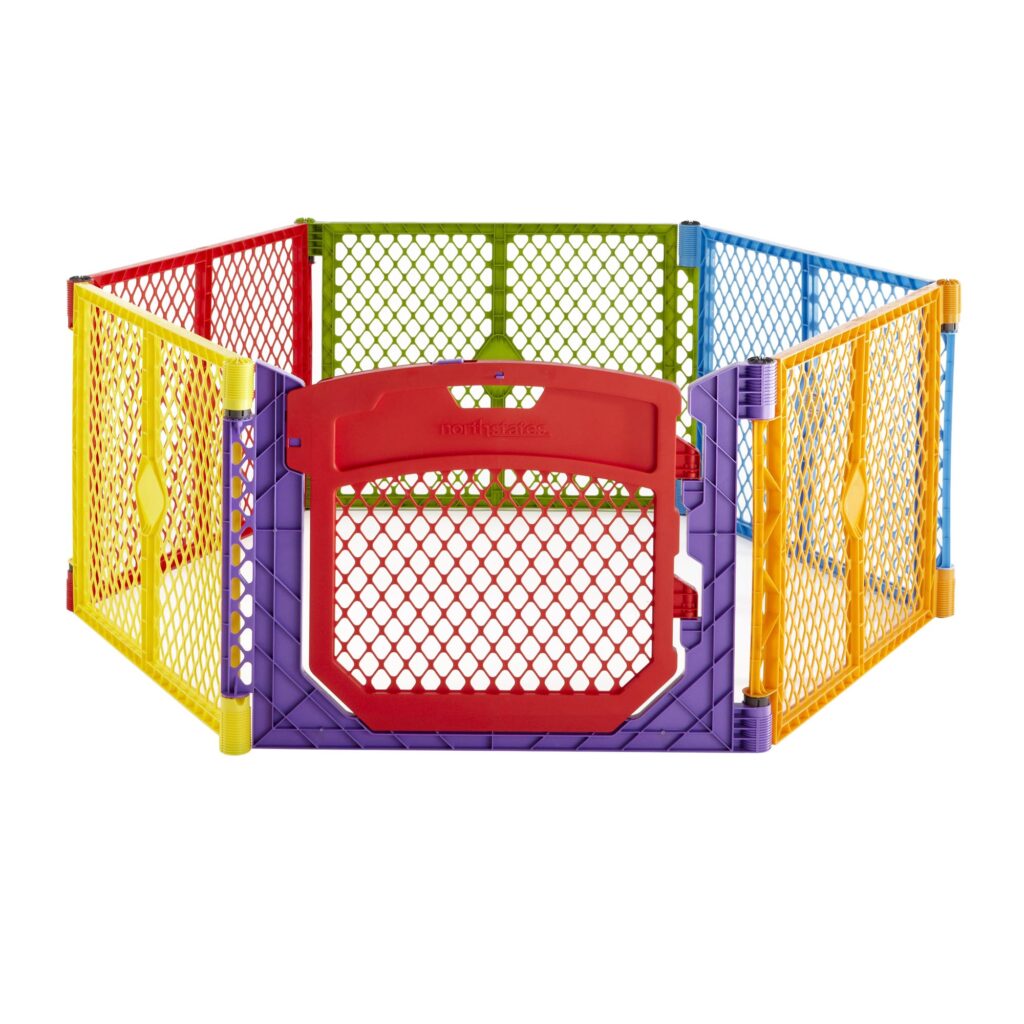 How about a versatile baby fence? Yes, that's right, you can really use this fence in different ways, but best of all, you can use it both indoors and outdoors. So, whether you are cooking lunch or want to enjoy the garden, your baby can go along with you.
The great thing is that the basic package brings several panels that, when assembled, give a playing surface of 18.5 square feet (1.72 square meters). Plus, if you have more babies, for example, then it is possible to buy additional expansion panels that can increase the space to 34.5 square feet (3.21 square meters).
Transporting and storing this baby fence is really easy because there is a handle here that makes things easier. We also need to emphasize the non-skid feet that prevent the baby from moving the fence around the room. The only thing that can be considered a downside is that the playmat does not come in a set but is optional. Yes, you may not need it for the inside, but the outside is definitely a great thing.
2. Evenflo Versatile Play Space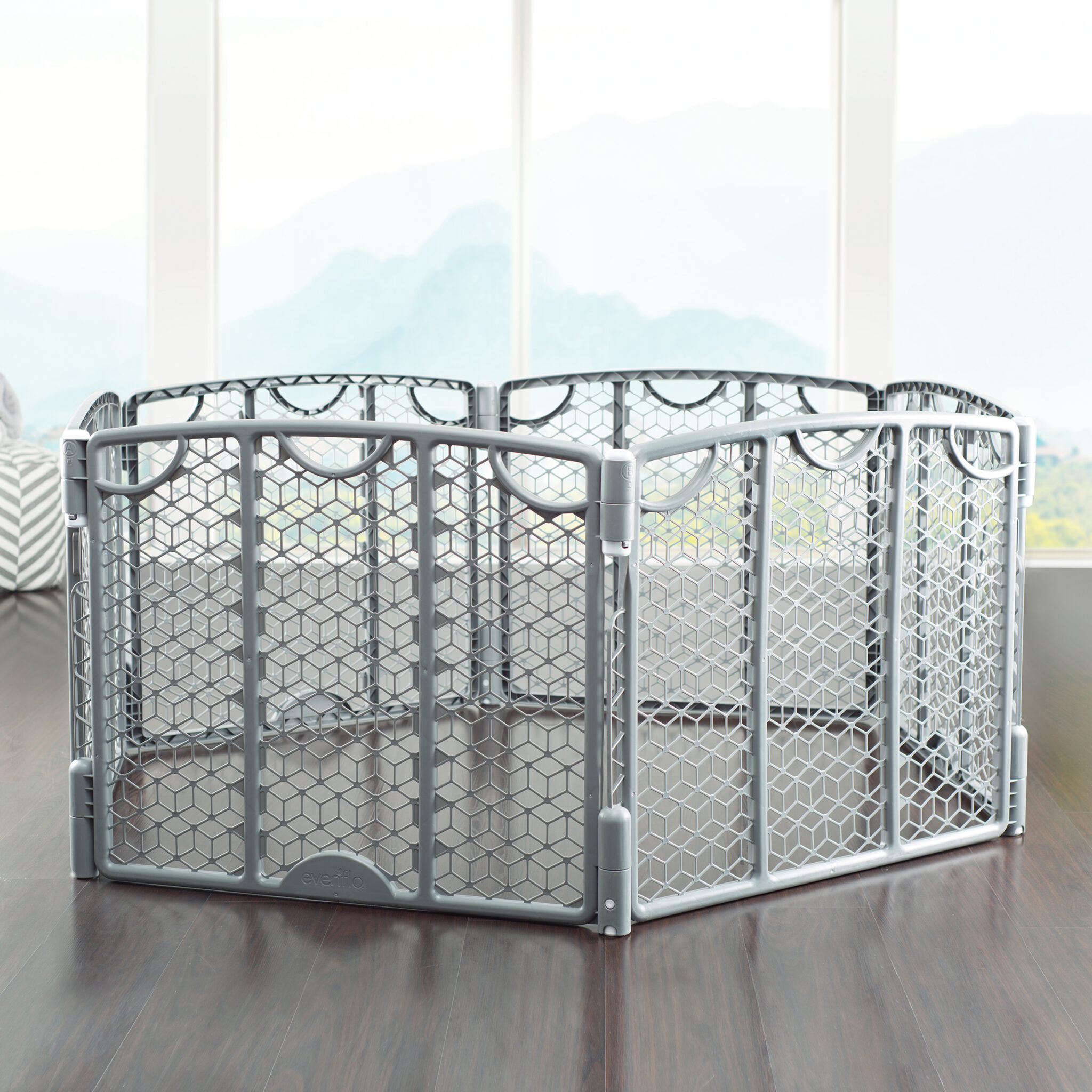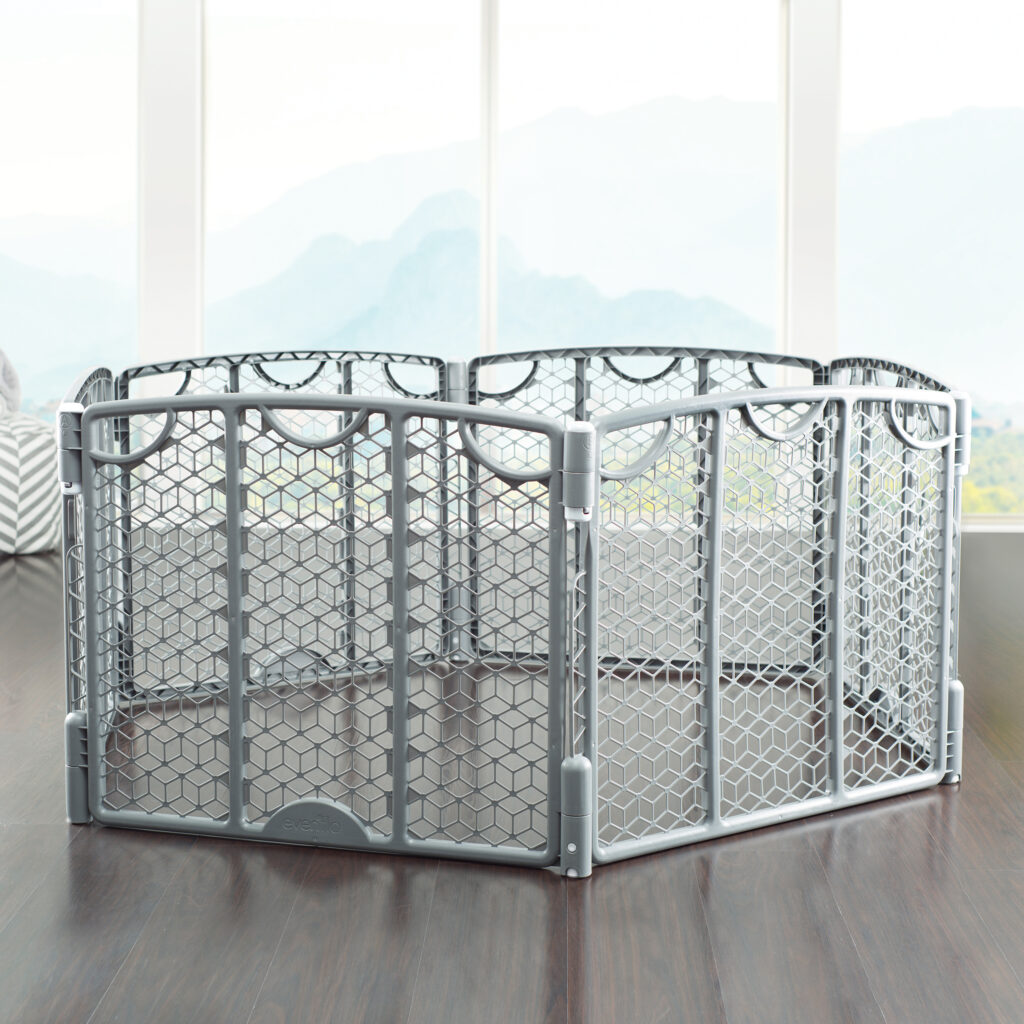 Well, we don't have to emphasize that this fence is also versatile, right? It is written in the title. In any case, it is necessary to emphasize what makes this product versatile. Well, first of all, it's mobility. So, this fence by Evenflo can be placed in the house, on the terrace, in the garden, in short, anywhere.
Another convenient thing, especially if you plan to use the fence outside, is the lightness. Regardless of the location of the installation, you will be able to easily transfer it, and even easier to assemble it because you don't really need any tools. Great, right?
Plus, if you place the fence on a soft surface, say a lawn, the legs allow for fixing. Unfortunately, fixing is not possible on the floors in the house. However, in the end, we must emphasize that this baby fence is available in several colors (cream, gray, etc.) and provides up to 18.5 square feet (1.72 square meters) of safe space for your baby.
3. Toddler Easy Swing Portico Arch Baby Gate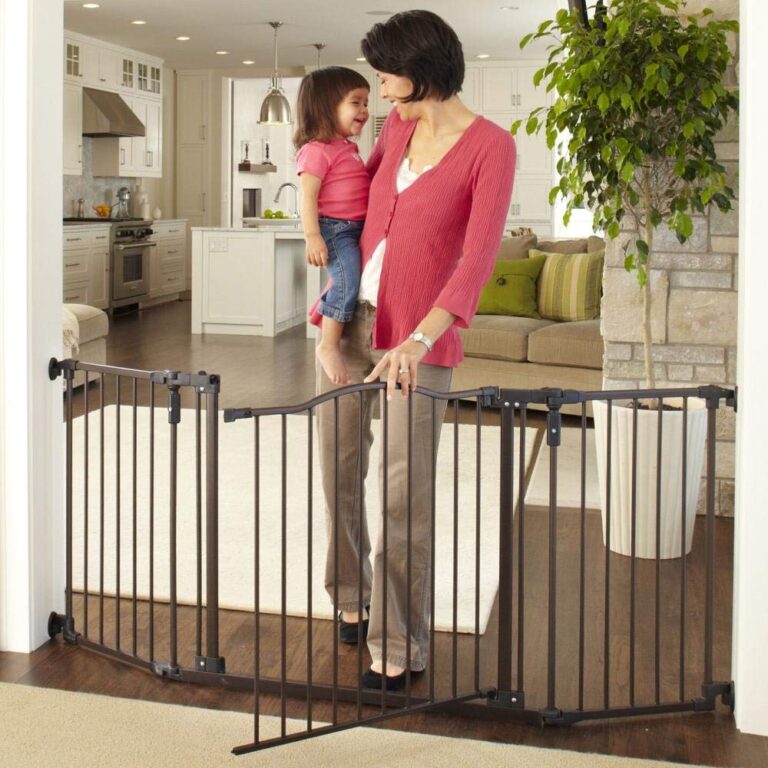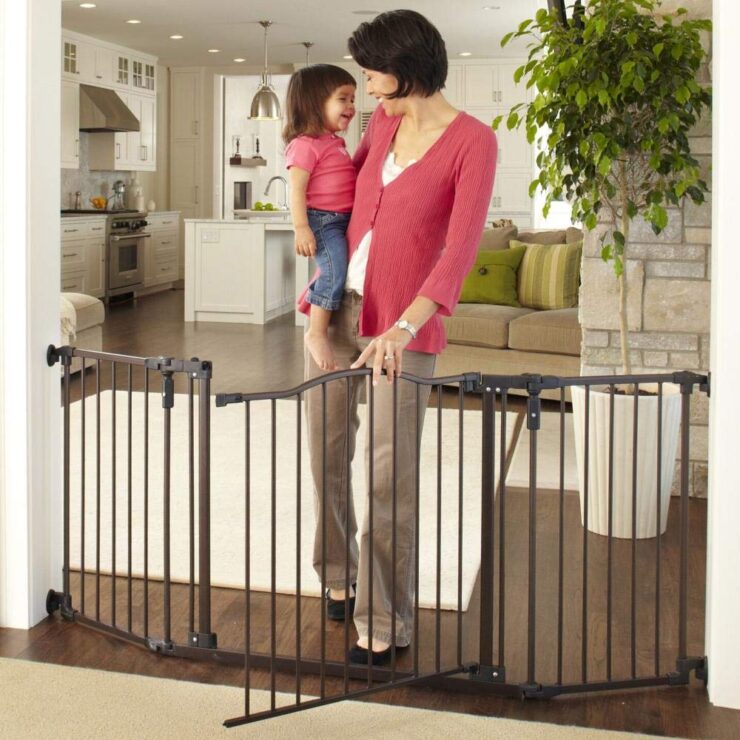 After these fences that are really mounted as a fence, in a circular form, we must present you with other solutions. For example, if you want to partition one part of the house, and make a great space for your baby to play with, then maybe you can consider a baby fence for doorways.
This one is just that and offers the ability to "block" passes from 28.25 to 38.25 inches (71.75 to 97.15 cm). So, you can mount it, for example, in the living room, so that it divides one part of the room where your baby will be able to play safely.
We know, it looks like you will need a lot of tools, drills, screwdrivers, screws, etc. But don't worry. You don't really need any of that. The principle of installation is a pressure-mount type so that the whole process is quite simple.
In addition, the pressure-mount type of installation is a great thing because you can move this fence from one place to another at any time.
One thing we particularly liked was the doors that could open on both sides. However, the door is also the only thing that can be a problem for you. Actually, not a door, but their width of 18 inches (45.72 cm) so going through it may be problematic.
4. Evenflo Extra Tall Top-of-The-Stair Gate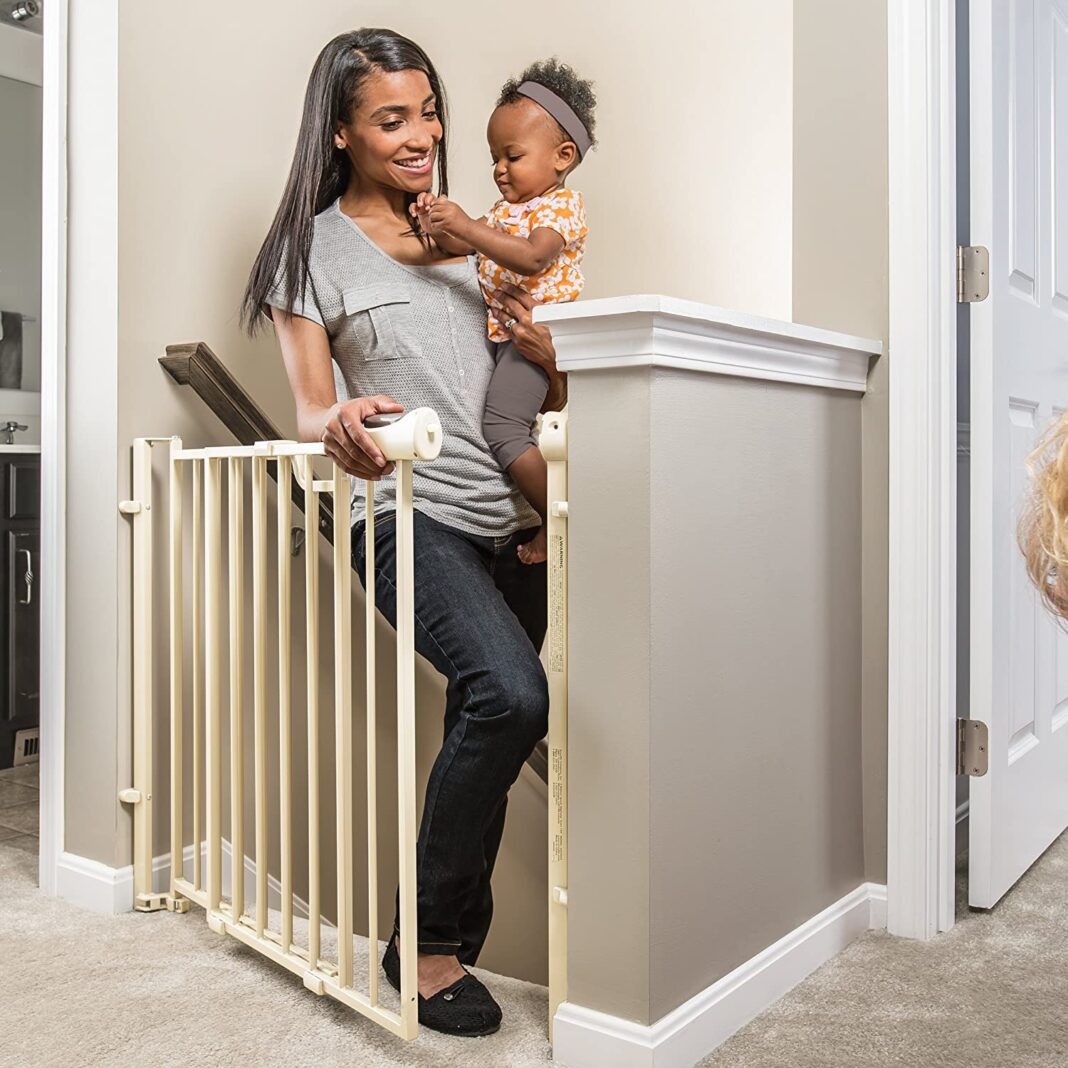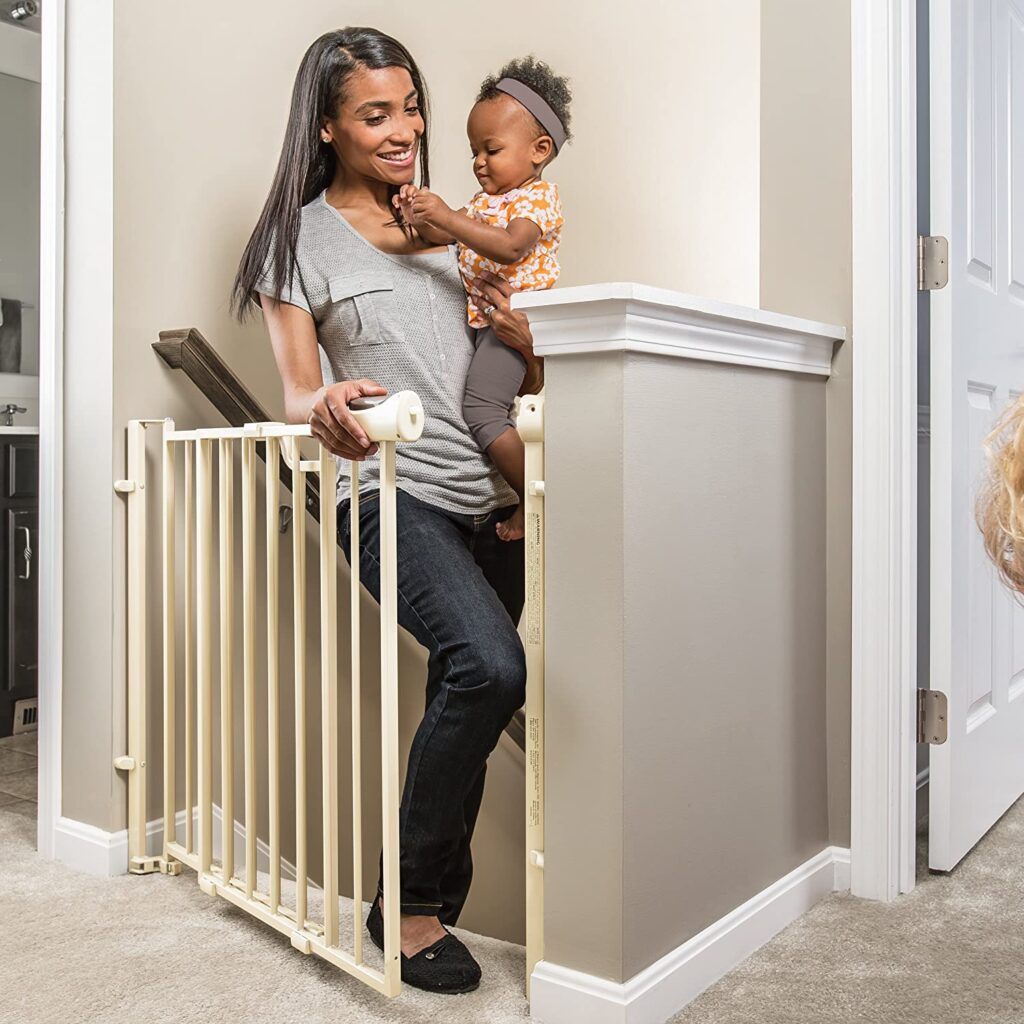 Lastly, another great and above all useful baby fence. This one is also manufactured by Evenflo, which means the quality is undoubtedly top-notch. However, what is the use, mounting, etc.
Well, if you liked the previous fences because of the tool-free installation, then that will certainly not be the case here. Namely, although the assembly process itself is not difficult, and you even get the tool, you may be bothered by the fact that you will have to actually use it and make a certain effort. But don't worry, as we said, it's not difficult.
Besides, we have no other objections. For example, the material from which this top-of-the-stairs fence is made is wood, which is great. In addition, it adjusts for width in the range of 30 to 48 inches (76.2 to 121.91 cm). All in all, if you need this type of baby fence, then this one is definitely the right choice.