Undoubtedly, a baby swing is an essential baby gear that expectant moms, new mothers, and, generally, families need in the home. It provides a convenient way to take care of a baby while offering you some relief.
All baby swings are designed to act as an additional help for moms. However, they are designed for different purposes, even though they have the same blueprint. If your baby is slightly overweight or weighty, you will need the best baby swing for heavy babies.
A baby swing that's designed for a chubby baby can accommodate large babies conveniently, provided the baby doesn't exceed the swing's weight limit. Baby swings for heavy babies are in abundance, and that's what makes selecting the best complicated for parents.
The next part of this article will focus on the best baby swing for heavy babies as well as what you should know before buying them.
Do You Need a Large Baby Swing for Your Heavy Baby?
Like we mentioned, baby swings have the same blueprint but are designed for various purposes. Babies' weight limits can reach as high as 35-40 pounds. At this juncture, purchasing a baby swing with a large weight capacity is paramount in accommodating their massive sizes.
Plus, you don't want to get a light baby swing for a hundred bucks just for a few weeks of use only. A big baby will need a baby swing of between 25-30 pounds so that he/she can use it for an extended period.
Table of Comparison
Best Baby Swing for Heavy Babies: Complete Review
1. 4moms mamaRoo Baby Swing – Best Overall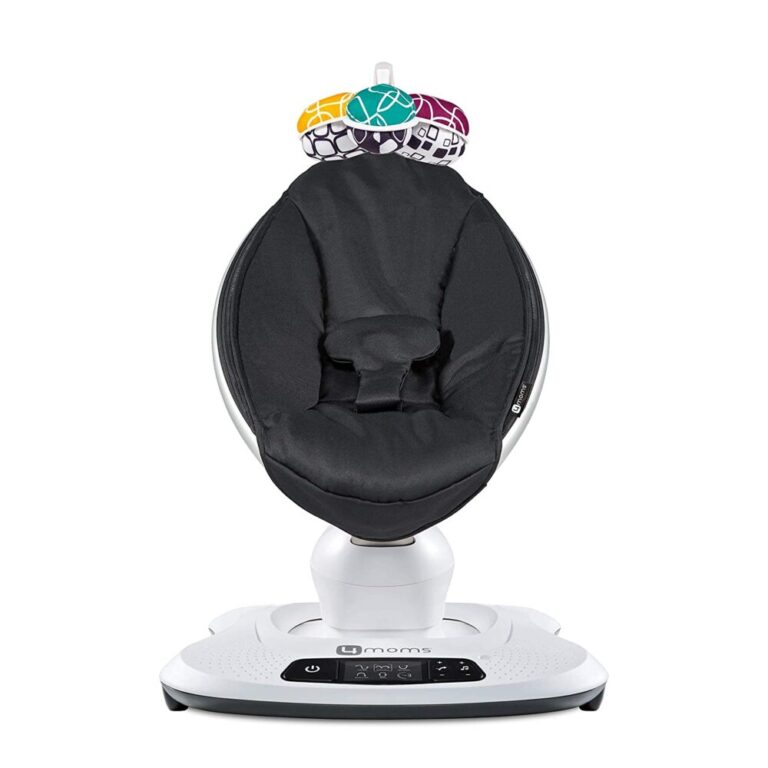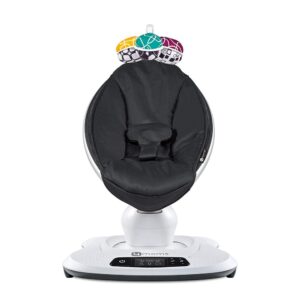 We like about 4moms products because they can remain compact and portable while offering the best features. The 4moms mamaRoo is one-third of a traditional full-size baby swing but comes with powerful features.
The baby swing has a small footprint that makes it easy to be placed in any part of the room. One of the best features of the mamaRoo is its Bluetooth functionality. This means that you can control the swing remotely from a Bluetooth compatible device. Super convenient, right?
With its five soothing motions, built-in natural songs, and hanging toys, your baby will feel calm and relieved and, at the same time, entertained. Just connect your phone with the mp3 plug and let the songs keep your baby company.
The seat is plush, and the cover is removable and washable. The five-point harness will keep your baby safe all the time.
Though the swing speed is fairly low, the diverse seat recline positions can be adjusted to suit your baby's needs. Your baby can choose to sit upright or lie in the swing.
The swing runs on an AC adaptor, which will save you money in replacing batteries now and then.
Pros
Cost-effective
Easy to assemble
Lightweight and portable
Removable and machine washable seat fabric
Bluetooth enabled
Five swinging motions
Cons
No vibration mode
It's slightly expensive.
Verdict
When it comes to having innovative features, you can't exclude the 4moms mamaRoo baby swing. Its Bluetooth functionality is probably the reason most parents love this swing. It provides them with the convenience they need to control the swing on and off remotely.
Considering the features, this baby swing is worth buying, despite its slightly expensive price tag.
2. Graco Glider LX Gliding Swing – Best Stable Swing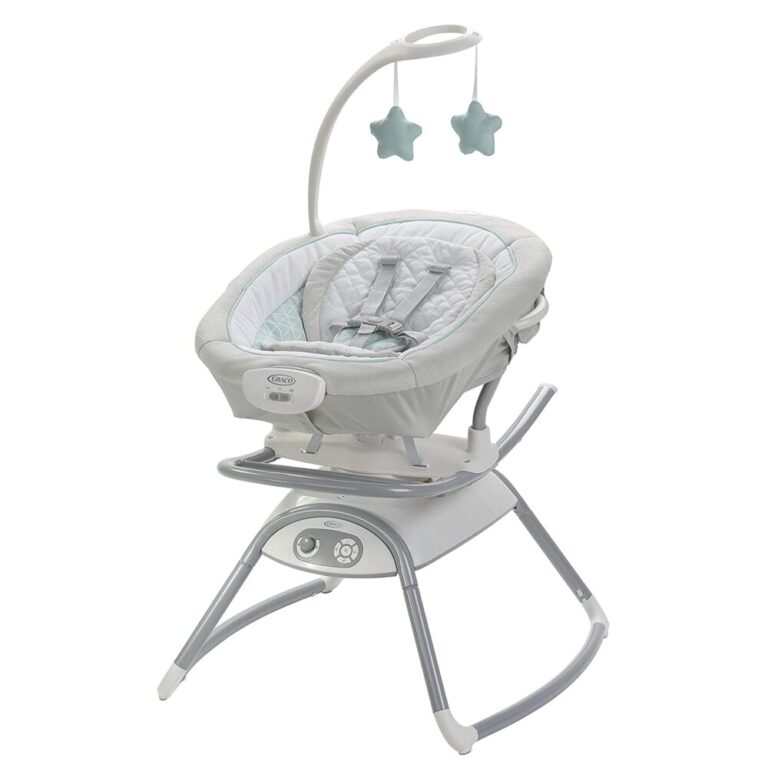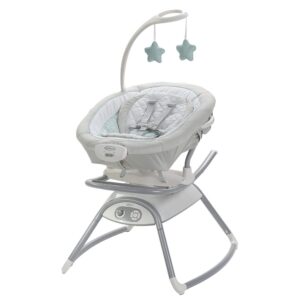 The Graco Glider LX Gliding Swing is one of the most comfortable and best baby swing if you want a space-saving swing with a safety option. We ranked this product number 1 because it strikes a balance of all the features you can find in a baby swing.
The swing's frame is sturdy, made of hard plastic that makes it very difficult to tip. The swing base is wide, offering the best stability that you can find in a swing. Its frame ensures that the swing occupies less space when put in a room, making it one of the best space-saving baby swings.
The back and front swinging motion help to soothe and cuddle the baby. The space-saving baby swing also comes with six different speeds to help your baby stay relaxed.
Graco Glider LX Gliding swing features a five-point harness to secure your little one so that the chances of falling are slim. With its headrest support, excellent body support, and well-padded seat option, the comfort of your baby is enhanced.
Speaking of the seat cover, it's removable and machine washable, which promotes convenience. You will have no issues keeping the swing hygienic.
In terms of comfort, the baby swing reclines into three positions. This is suitable for babies who may prefer to sit in one position more than others.
This incredible Graco baby swing runs on both batteries and AC power. Having this kind of options not only saves you money from frequently changing batteries in the long run, but offers convenience.
Though compact, this baby swing provides extra features like a timer button to turn off the music, ten music melodies and five nature songs to engage the baby and keep him/her calm. It also includes a toy bar that is stuffed with hanging bears.
Pros
Easy to use
Hanging toy bars and a music system to keep the baby entertained.,
Removable and easy to wash the seat cover
Five-point harness that guarantees safety
Comfortable seats with different recline positions
Sturdy frame for more stability
Cons
Fairly difficult to assemble.
Some features work like vibration with only batteries.
Verdict
Undoubtedly, this is one of the best space-saving baby swings out there. It's not only affordable but offers great features that are present in full-sized baby swings. It does the job of soothing and entertaining your baby excellently.
3. Fisher-Price Sweet Snugapuppy Dreams Cradle 'n' Swing – Best Foldable Swing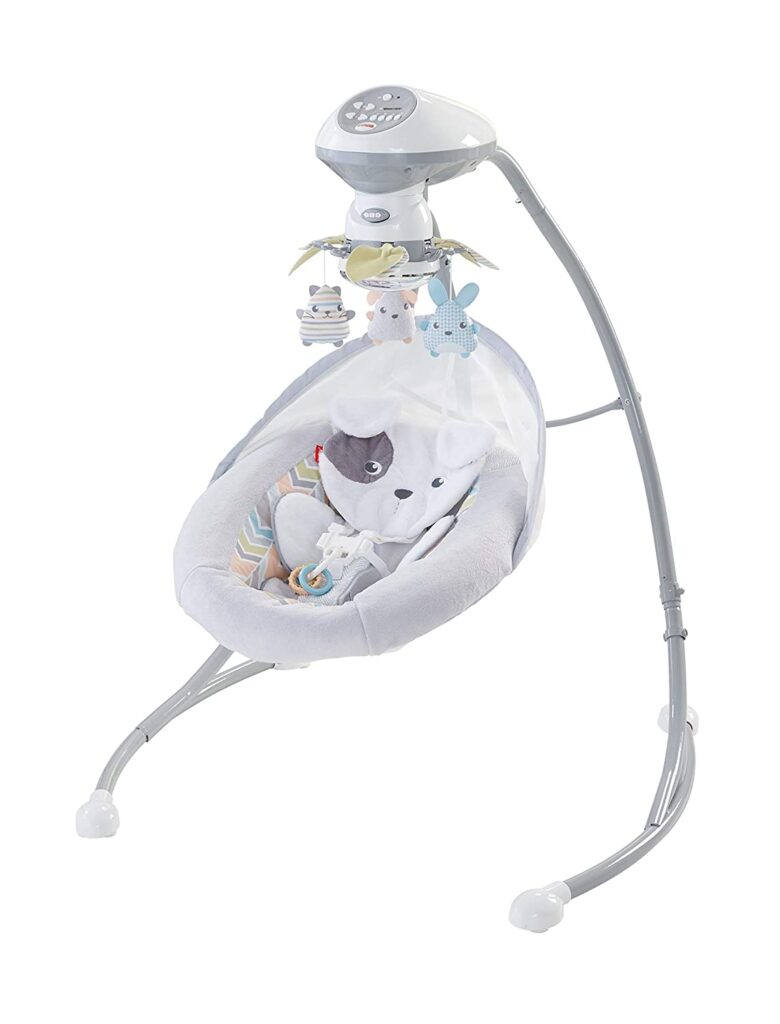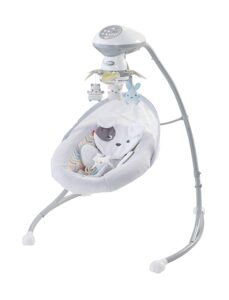 The Fisher-Price Sweet Snugapuppy Dream Cradle 'n' Swing is one of the most popular and top-rated baby swings in the market. It's popular because of how incredible the baby swing is in providing optimal comfort, safety, and entertainment.
Though not as sleek or as compact as the Sense2Soothe or the 4moms, the baby swing's legs are foldable for portability. Also, you can fold the legs up if you want to conserve some space in the room. It comes with stable and sturdy legs that ensure the swing won't tip over, resulting in the baby's fall.
The baby swing comes with six different speed settings that are adjustable to suit your baby's preference. With two swing motions, you can choose to either swing side-to-side or front-to-back as your child pleases.
The baby swing includes two rotating recline seat positions to offer more comfort and a five-point harness system, which was omitted in older Fisher-Price versions to provide additional safety to the baby.
What we like about this swing is it also includes sensing technology. The sensing technology senses the baby's weight and automatically adjusts its motor to keep the swinging speeds and other features consistent. The sensing technology continues to do this automatically until your baby exceeds the 25 pounds weight limit.
You shouldn't worry too much if you dislike baby swings that run on batteries only. The Fisher-Price Sweet Snugapuppy includes the option of running the swing via a plug-in.
Pros
Easy to use and setup
The fabric cover is removable and machine washable.
Offers excellent security
Plush and comfortable fabric
Runs on batteries and an AC power
Easy to fold up for storage.
Cons
The motor makes a clicking noise too loud sometimes.
Battery power doesn't last when used.
Verdict
Undoubtedly, the Fisher-Price is an excellent baby swing with lots of features to make your baby comfortable and happy. It comes with sturdy and balanced legs, foldable, and offers dual power options, which is a great way to save money on battery costs.
4. Graco Simple Sway Baby Swing – Best Portable Baby Swing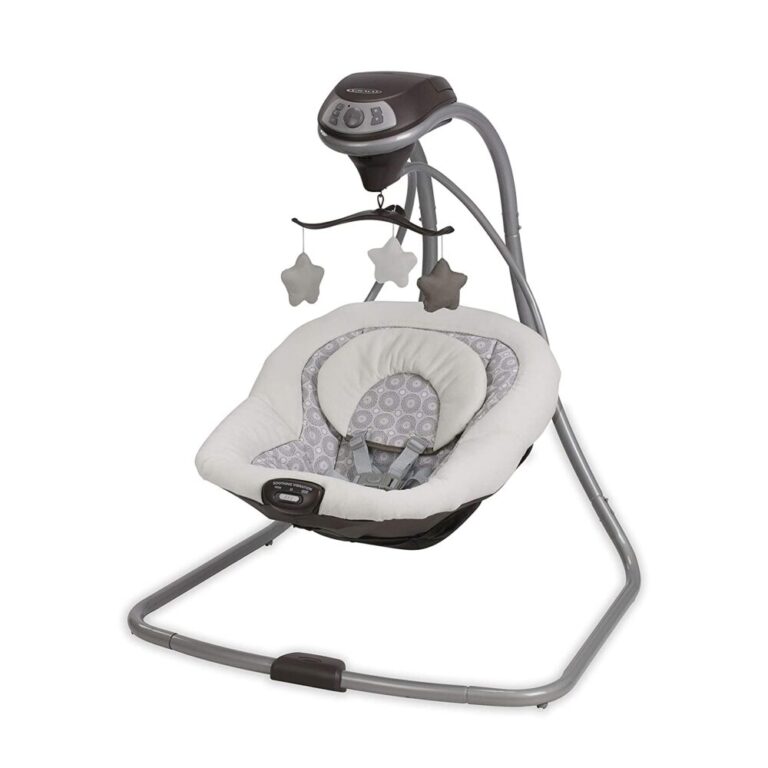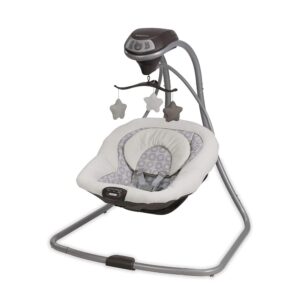 The Graco Simple Sway Baby Swing is one of the most compact-designed swings available. The compact design means that the swing can fit into small spaces effortlessly. With this, you can always keep an eye on your baby.
Thanks to its gentle six swing speeds and side-to-side motion, your baby stays relaxed in the most comforting way. Plus, the swing speed can be adjusted to suit the baby's preference.
The Graco Simple Sway Baby swing seat is deep and soft with a removable headrest to offer your baby maximum comfort. The headrest is beneficial in providing neck and spine support, which are both weak and underdeveloped in infants.
With the five-point harness system, you don't need to worry about your child falling off. The harness feature will secure your baby conveniently while he enjoys his time in the swing, giving you the peace of mind you need.
Most portable low-budget swings run on only batteries, but the Graco Simple Sway baby swing gives you the option to use an AC adapter or batteries. This enhances convenience and provides even better value considering the price.
You can keep your little one entertained and calm by playing him/her any tune amongst the ten melodies and five nature songs. Also, there are soft toys included in a toy mobile to offer further entertainment.
Pros
Dual power options (plug-in and batteries)
Plush and comfortable seat
Removable head support
Side-to-side swinging motion
Six swing speeds
Produces less noise
Cons
A little hard to assemble
The head support is slightly low.
Verdict
The Graco Simple Sway baby swing is simply another good quality product from Graco that you should consider buying due to its compactness and dual power options. Despite having terrible head support and difficulties in assemblage, the swing has been impeccable in other aspects, making it superb for the price.
5. GracoDuetConnect Swing and Bouncer – Best Swing and Bouncer Combo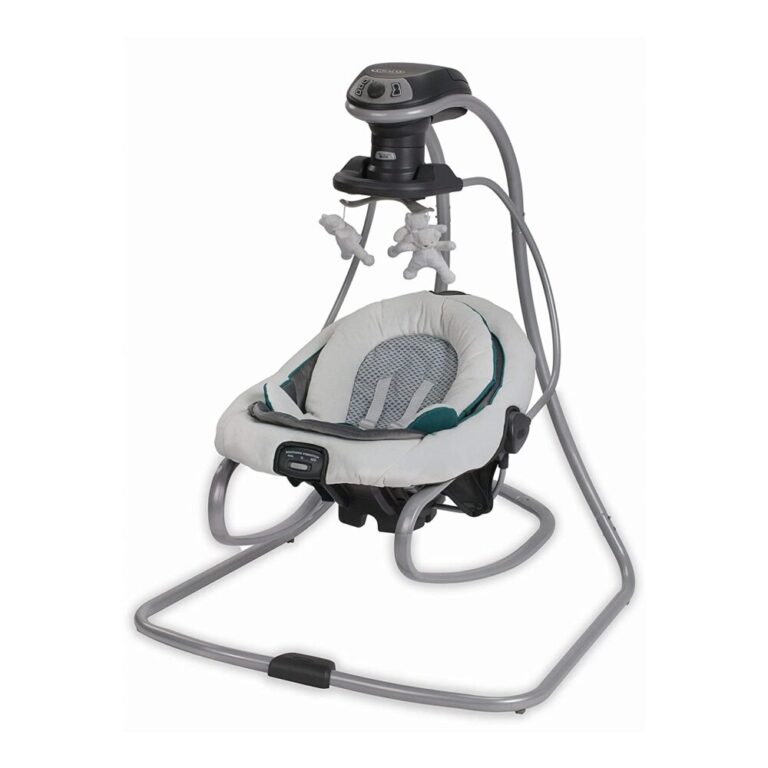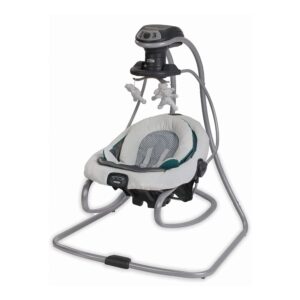 If you want a baby swing that offers two 2-in-1 functions for a lesser price, this baby swing and bouncer combo is your ideal option.
This product has a swing seat that you can remove and convert into a bouncer. The bouncer can hold babies of up to 18 pounds, which is lesser than the 30 pounds the swing can accommodate.
The baby swing's seat is soft and wide enough to make the baby feel comfortable. Plus, it comes with a head and body support for optimal relaxation. Thanks to the five-point harness belt, your baby will stay safe and secure all through his period in the swing. Combining it with the swing's sturdy design will prevent your baby from tipping over.
With its adjustable six swing speeds and two-speed vibration, your fussy baby will stay calm and happy while he/she enjoys the swinging motion. Your baby can choose to sit or lie in the swing with its adjustable two-recline seat position for more comfort.
If your baby still feels uncomfortable, you can play him/her ten songs and five nature sound from the music box to distract him. The hanging star-like toys can also provide additional entertainment.
You can choose to power the swing up with batteries or an AC adapter for increased convenience.
Pros
Five-point harness for more safety
2-in-1 swing and rocker combo
Two-reclining positions
Dual power options
Sturdy and stable legs
Adjustable swing speeds
Cons
Vibration works with batteries only.
The swing produces a little bit of clicking noise.
Verdict
Despite producing a little bit of clicking noise, the GracoDuetConnect baby swing and bouncer combo is a high-quality product that offers value for money. With the 2-in-1 combo functions, you get to save money from buying a separate bouncer. More so, the dual power options provide more convenience and portability.
6. Fisher-Price Fawn Meadows Deluxe Cradle 'n' Swing – Best Dual-swing for Comfort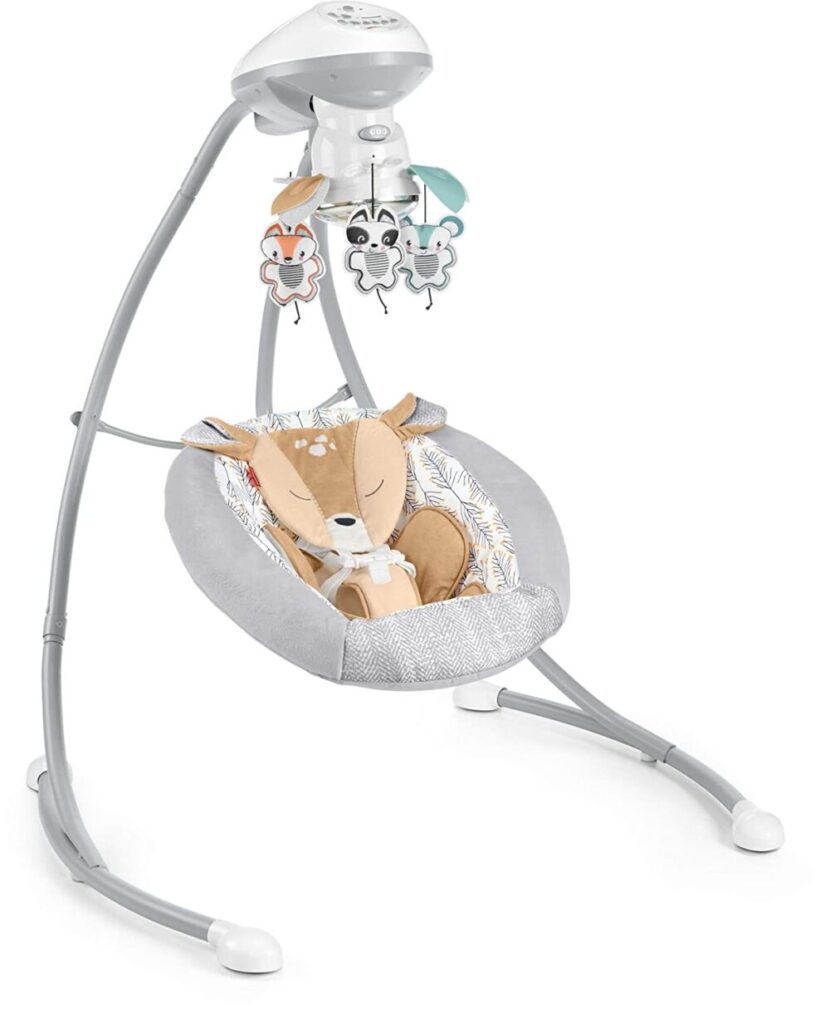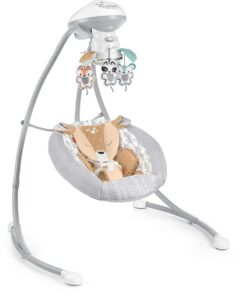 The Fisher-Price Fawn Meadows Deluxe Cradle 'n' Swing is another excellent baby swing that will provide your baby with the comfort and entertainment that he/she needs.
The design is adorable, and the legs are stable, guaranteeing that it can accommodate your baby's weight conveniently, provided it doesn't exceed the maximum weight value. The legs can be folded conveniently for storage and travel.
Its side-to-side and head-to-toe swinging motions are great for rocking your baby to sleep and relaxation. All you need is to press the button and turn the seat to change position. Also, the plush fabric, five-point harness, head ad body support will maximize your baby's comfort and offer optimal security.
The baby swing comes with adjustable seat recline and six swing speeds. If your baby starts crying, you can change the swing motion from the lowest to the highest according to the baby's preference. Plus, you can change the position of the seat to calm the baby.
The sixteen different soothing songs and nature songs are quiet and don't produce disturbing sounds. The motor's sound is almost noiseless, which further enhances the baby's comfort.
The swing has dual power options, meaning you can power the product with batteries or an AC adapter.
Pros
Adjustable seat recline
Six swing speeds
Machine washable seat
Easy to fold
Easy to assemble
Plug-in and battery options.
Cons
No vibration function
The fabric is slightly inferior.
Verdict
The Fisher-Price Fawn Meadows Deluxe Cradle 'n' Swing is a super adorable swing that your baby would cherish. Apart from its lovely design, its adjustable seat recline, dual swing motions, and head and body support will provide the best comfort.
The double power options is an added advantage as it will save you the costs of changing batteries now and then.
Best Baby Swing for Heavy Babies Buyer's Guide
In buying a baby swing for chubby babies, apart from the weight limit, there are certain factors that you must consider. These factors greatly impact the longevity of the swing, comfort, and safety of the baby.
Longevity
The fact is the longevity of a baby swing is not that extensive. However, baby swings that are designed to grow with the baby do last for over three years. Baby swings that do not come with adjustable seats can last for as long as seven months.
You need to be sure of how long you want your baby to use the swing before forging to buy one. If you want your baby to use the swing for a long time, let's say 2-3 years, you should get a baby swing with adjustable seats and height. If you don't want your baby to use a swing that long, you should get one that will last them till he/she is between 6-9 months of age.
Frame's Design
The swing's frame is of importance when in the market for a baby swing. The frame's design impacts the stability and also the durability of the swing. It's imperative that you get a baby swing with balanced legs to prevent your large-sized baby from falling.
Also, you should consider the material used in designing the frames. Most swing's frames are either plastic or metal. Plastic frames are not as sturdy as metal frames. They also have less wear resistance compared to metal. So, in essence, you should look out for baby swings with metal frames as they guarantee the best durability.
Plastic frames are equally good but depend on other components of the swing. They are less pricey compared to swings with metal frames, though.
Seat
It's crucial for heavy babies that you get a baby swing that is not only soft but well-padded to accommodate their weight. The seat should also come with a plush, durable fabric that is removable and easy to wash.
You should also consider a baby swing with body support and a comfortable headrest to relax the baby's spine and neck. Additionally, the seat should have reclining and inclining features to control the baby's reflux and colic issues.
Harness Belt
A harness belt secures the baby in place in the swing so that he/she doesn't move astray or fall off the swing when playing with his/her toys. All baby swings come with a harness belt. However, some come with a five-point harness belt, while others come with a three-point harness belt.
Safety-wise, a five-point harness belt is better than a three-point harness belt as the baby will be more secure all-round. Thankfully, most of the baby swings reviewed in this article all come with a five-point harness belt for guaranteed safety.
Power Options
Baby swings can run on batteries, AC power, or both. Baby swings that run on both power sources are more cost-effective as you will be able to power on the swing with what's available, and your baby can continue to enjoy his stay in the swing. If you are near an outlet, you can power the swing via a plug-in cord, but you can power the machine with batteries in the absence of an outlet.
An AC-powered only baby swing is also cost-effective since you won't be replacing batteries almost every time. However, they are not very portable, meaning taking them everywhere with you is difficult. Battery-powered swings are a better option if you want portability.
Extras
Features like a toy bar with hanging toys, vibration seats, music, and nature songs are included in a baby swing to entertain the baby.
Conclusion
Chubby babies need the best swing for optimal comfort. That's why we decided to come up with this article on the best baby swing for heavy babies for parents who have run out of swing options.
These baby swings come with exciting features that will ensure your large baby is not only comfortable but safe and entertained. Their overall performance is incredible, which will help your little one overcome his reflux and colic problems.
FAQs
What baby swing has the highest weight limit?
There are several baby swings that people consider as having the highest weight limit. We believe the 4moms mamaRoo and Graco Glider LX Gliding as two of the best swings with the highest weight limit.
At what age do babies outgrow their swings?
Most babies outgrow their swings when they get nine months of age. Some units transform into comfortable seats for toddlers' use.
How long can a baby use a Graco swing?
A baby can use a Graco swing for 6-9 months, depending on the baby's weight.
Important Reads: