Most mothers will admit that taking care of their babies after childbirth is the most challenging phase of their lives. They would have to joggle between work, house chores, and taking care of their little one(s). Sometimes they would have to hold their babies for extended periods, which is too exhausting.
At some point, you will have to put the baby down to focus on work, take some rest, and even sleep. But some babies will be too uncomfortable and become fussy when they let go of their mother's arms. This is why you need the best reclining baby swing for him/her.
A reclining baby swing will make your child feel comfortable and lessen the burden of having to soothe the child all the time. Besides, babies love to swing because of the swinging motion they felt in their mother's womb. Buying a baby swing will mimic that feeling and will help keep the baby relaxed.
That's why we decided to compile the 5 best reclining baby swings in the market according to our in-depth research. These baby swings come with features such as two or three reclining seat positions, a harness belt, music, swinging, and vibration for the overall comfort and relaxation of your baby.
Why Do You Need a Reclining Swing?
Babies are an inconsistent set of humans. They hardly stay in a particular position for a long time. Purchasing a baby swing with different reclining positions will provide the necessary comfort that your baby needs. The baby will be able to stay in whatever state that he/she deems fit and have fun with his plush toys.
When the baby needs to have a little nap, you can change the seat's position to a flat position. Reclining swings will allow you to choose the perfect sitting or lying state for your baby.
Most full-sized baby swings include two or three recline positions, while most portable and compact baby swings only have one type – a fixed recline position.
Generally, a baby swing will act as additional help to busy moms and parents. It will keep the baby entertained and provide great company while you focus on other tasks.
5 Best Reclining Baby Swing
1. Graco Sense2Soothe Swing with Cry Detection – Best Overall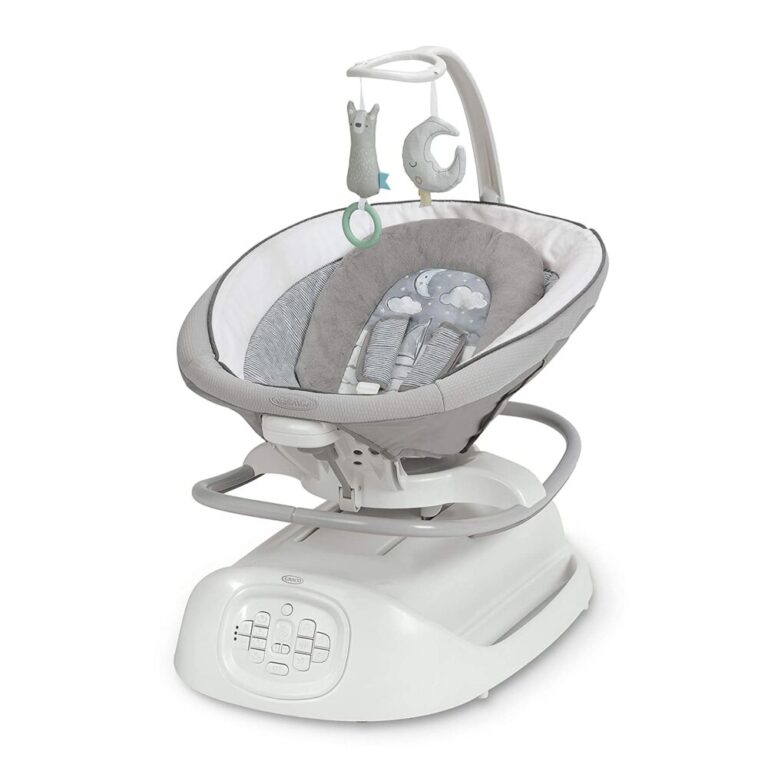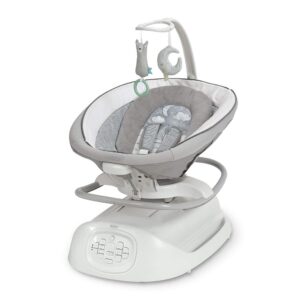 The Graco Sense2Soothe is ranked number in this list of reclining baby swings because it features three recline settings, unlike most baby swings out there that only has two recline settings.
We also like the Graco Sense2Soothe swing because of its compact and sleek design. The design is similar to the 4moms mamaRoo, and unlike the traditional structure of most baby swings. The size is nearly one-third of most traditional swings, which makes it occupy less space. Nevertheless, its compact size didn't hinder it from having the best soothing features you can find in a baby swing.
The construction is sturdy enough to accommodate the weight of your baby without losing its stability. It's easy to assemble and easy to use with its super intuitive controls located below the seat.
It has three different swing speed settings; you can adjust to calm your fussy baby. Combining it with the four swing motions will help your baby stay relaxed while you attend other paramount duties.
There are two vibration settings, and different melodies and nature sounds with adjustable volume for entertainment purposes so that your little one doesn't stay bored.
Another cool feature we like about this product is the Cry Detection technology. The cry of your baby triggers the technology. Once your baby starts to cry, the technology starts the system. The swing will automatically undergo a series of different motions and sound combinations until it detects that the crying has stopped. At this point, the settings go back to default.
If you want, you can customize what you want the swing to do when it detects your baby's cry. This allows you to make changes according to your baby's needs, which is fantastic.
The baby swing doesn't use batteries, but an AC adapter, which makes the swing cost-effective.
Pros
Runs on an AC adapter
Sturdy construction
Compact size
Easy to assemble and use
Has Cry Detection technology
Has three recline settings
Cons
It's expensive
Produces a bit of clicky noise
Verdict
The baby swing is easily the best reclining baby swing in the market. Not only does it have three recline settings, but it's also sturdy, compact, easy to assemble, and above all, comes with the Cry Detection technology that makes using the swing in the mother's absence convenient.
2. Ronbei Cradle Swing Baby Swing – Best Innovative Baby Swing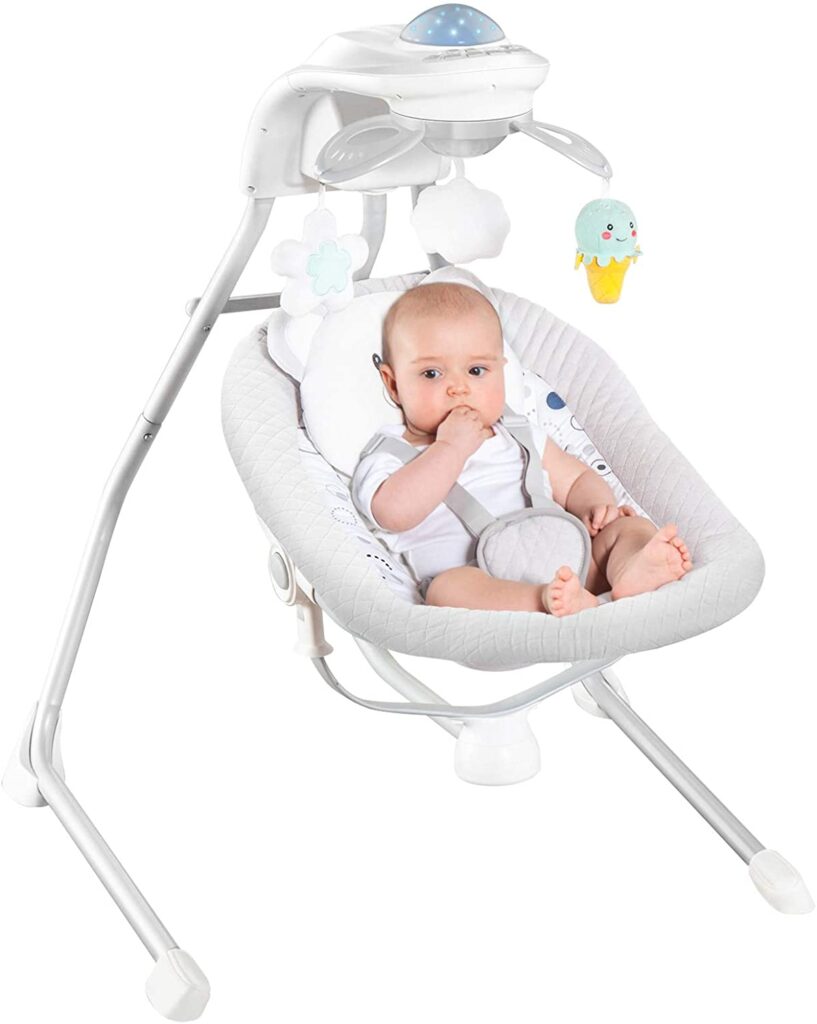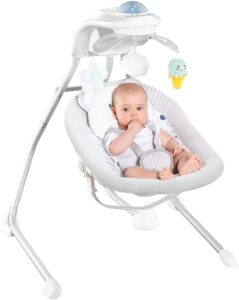 Ronbei Cradle Swing's design is similar to that of the Fisher-Price Sweet Snugapuppy swing, with a wide base and two stable legs. The construction is sturdy, resulting in increased durability.
The Ronbei Cradle baby swing is one of the best out there in innovative features and aesthetics. It includes eight lighting effects that add glamor, finesse, and decorate the baby's room, bringing more fun and entertainment.
Babies love to be comfortable, and that's why the swing comes with a cool, breathable fabric to promote airflow and soft cloth. The soft material is machine washable to enhance easy cleaning.
Additionally, it comes with a three-position seat recline, side-to-side and head-to-toe dual swing motions, and four different swing speeds to soothe your baby. The timer setting allows you to set the length of time you want the swing's speed to keep going on.
To provide extra security, there is a five-point harness belt fixed to the cushion. Apart from securing your baby, the belt helps keep the baby comfortable and curtail your baby's chances of falling to the floor.
The AC or battery-powered baby swing comes with lovely calming music, consisting of five melodies and three nature songs, gentle motions, and three plush hanging toys to keep your infant happy.
Pros
Easy to assemble
Cute and sturdy design
Eight songs to keep your little one happy
Plush and machine washable cushion
Three recline seat positions
Eight light beams to lightup the room's atmosphere.
Cons
The batteries die faster when the beam lights feature is activated.
Vibration works with only batteries.
Verdict
There are only a few baby swings in the world that has innovative features as the Ronbei Cradle. The baby swing pack features that ensure your baby isn't only comfortable and safe but happy and amused. It's an excellent swing for babies whose parents want something other than comfort and safety.
3. 4moms 2015 mamaRoo Baby Swing – Best Compact Baby Swing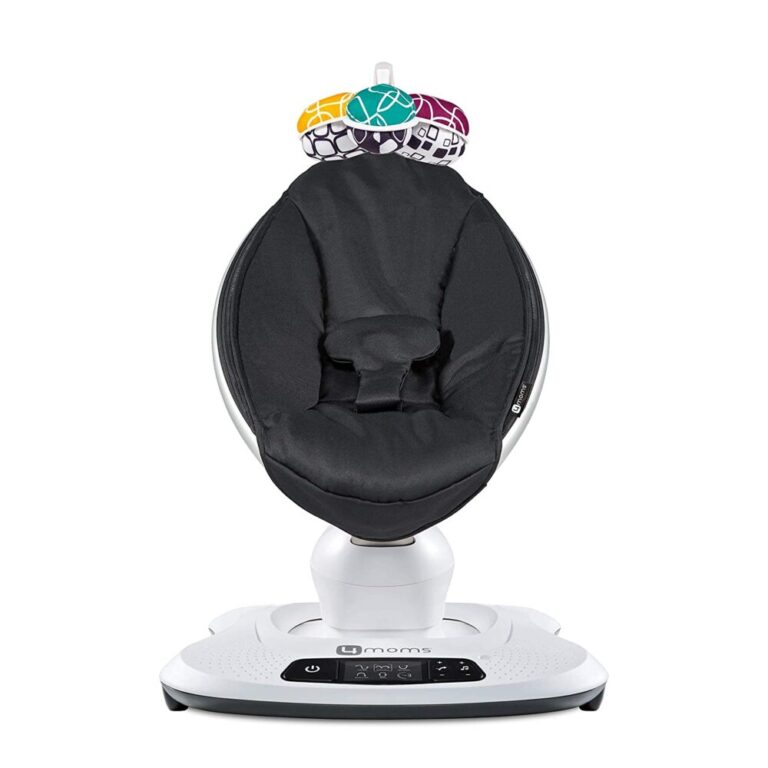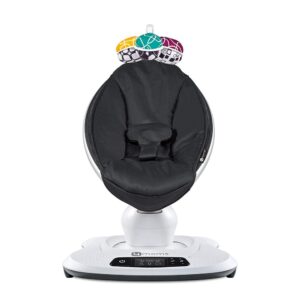 The compact size of the mamaRoo is one of the reasons why it's a top-rated product. Looking at the 4moms 2015 mamaRoo, the design is quite different from traditional baby swings as it's way smaller. Surprisingly, it doesn't lack any feature seen in conventional swings.
4moms mamaRoo comes in different colors such as black, white, gray, etc. You can choose any of the colors to match the decor of your baby's room.
The 4moms mamaRoo has five distinct soothing motions that mimic the sounds babies are conversant with to stay calm. These motions include a car ride, wave, tree swing, kangaroo, and rockabye.
Another feature we like that about the 4moms mamaRoo is its Bluetooth capability. Pairing the swing with a compatible, Bluetooth-enabled device will give you absolute control over the swing. You can control the swing's motion and sound, and if your baby dislikes the pre-installed songs in the swing, you can plug in your mp3 player to have more playlist options.
Unlike some baby swings that don't recline completely flat, the 4moms mamaRoo reclines completely flat. Its multiple recline feature enables you to change the recline position of the seat to your baby's desired choice. That means your baby can take a nap conveniently without any neck or spine pain.
Babies will likely have a blowout diaper, spit-up, etc. These can get the seat's cover messy and dirty. Thanks to the removable seat cover, you can remove the fabric and toss it in the washing machine for easy cleaning.
Thankfully, the baby swing is powered by an AC adapter, meaning that you won't be spending so much money replacing batteries.
Pros
Five unique motions
Bluetooth function
Built-in nature songs with mp3 plug-in option
Wide and comfortable seat
Removable and machine washable fabric
Seat reclines completely flat
Cons
It's expensive
Doesn't come with a dual-power option.
Verdict
The 4moms mamaRoo is a baby swing that would attract most babies. Parents would like to have this swing for their babies due to its comfort and the flexibility in control it offers them.
4. Graco Duet Glide Gliding Swing with Portable Rocker – Best Swing and Rocker Combo Baby Swing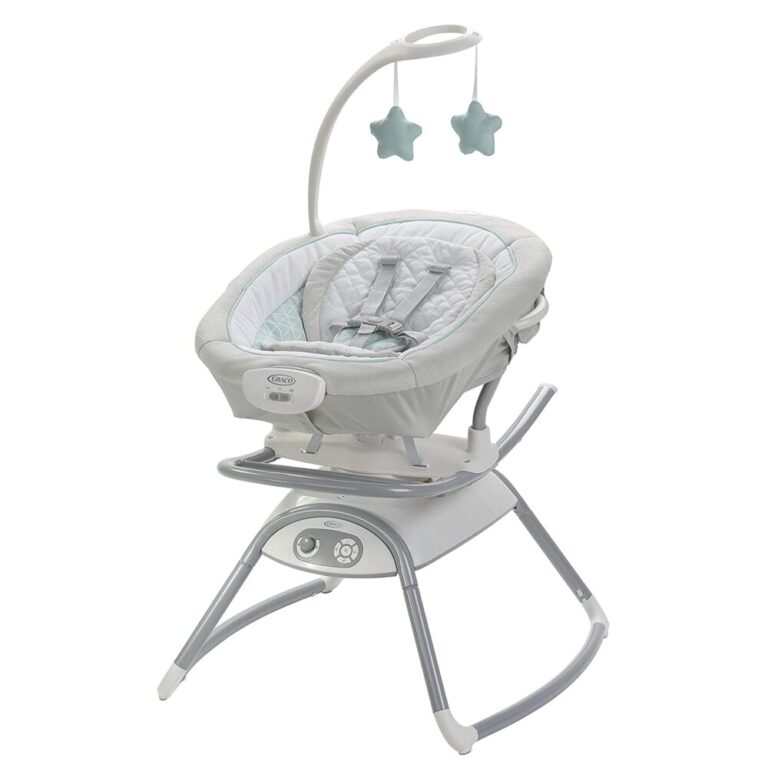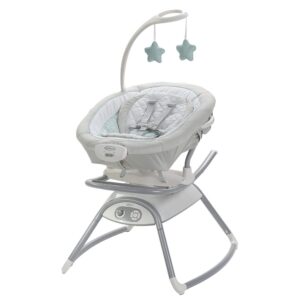 The Graco product is another versatile product with multiple swing capabilities and gliding motions to keep your fussy baby calm and entertained. It comes with a portable rocker that offers exceptional performance.
The upper design is similar to the Graco Sense2Soothe, while the base is similarly designed to the Graco Duet Soothe. This is not surprising since the same company designs all three products.
The swing's seat is plush, which offers optimal comfort. Also, it doubles as a rocker with an easy to carry handle for portability. This means that you can take your baby with you wherever you want to go, and he/she will always be by your side.
You can adjust the swing speed setting to ensure your baby has the best relaxation. And with the three-position recline, your baby can sit, lie, or stay in whatever position that he/she chooses conveniently. The downside is it doesn't recline completely flat. The product permits you to either swing it side-by-side or head-to-toe.
The two-speed vibration, fifteen songs and nature sounds, and two plush toys will soothe your baby and keep him/her entertained. Accessing the baby is made easy with the removable toy bar. If you want to keep or take the baby out of the swing, all you need to do is adjust the toy bar. It's super convenient!
It can be battery-powered, or AC powered, and all the functions work with the two power sources, except the vibration setting that works with batteries only.
Pros
Dual swinging motions – side-to-side and front-to-back
Doubles as a portable rocker
Adjustable swing speeds
Two-speed vibration settings
Soft and comfortable fabric
Compact
Cons
Swing doesn't grow with the baby
Sometimes, the music's sound is unclear and scratchy.
Verdict
The Graco Duet Glide Gliding Swing with Portable Rocker is another excellent swing and rocker option that will offer maximum comfort, even though the seat doesn't recline completely. It's highly portable and secure with the three-point harness belt.
5. Graco Duet Soothe Swing and Rocker -Best Budget Baby Swing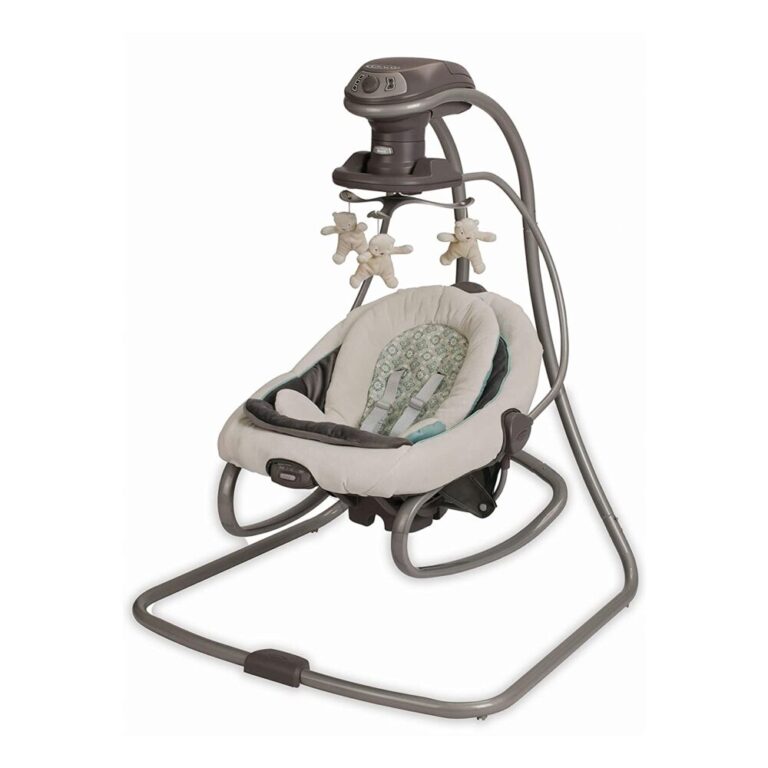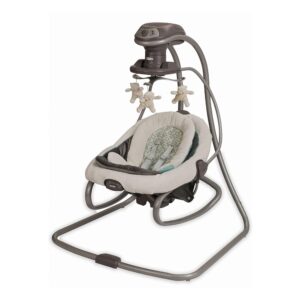 This is another excellent baby swing that you should consider purchasing if you want a swing and rocker combo.
If you don't want to use the swing traditionally, you can remove the seat and place it on the floor as a rocker. For convenient purposes, the rocker comes with an easy to carry handle that helps you move the rocker around.
The construction is solid and durable, and the swing's legs are stable. The chances of the swing tipping over are zero due to its wide base, which further suggests why this swing is an excellent choice for your baby.
The baby swing has a dual-swing motion – you can either rock your baby side-to-side or head-to-toe. Plus, it has six adjustable swing speeds. You can change the pace to suit your baby's mood.
The seat is plush, and has a body support with three recline positions to maximize your baby's comfort. Not only that, it comes with a five-point harness to enhance your baby's safety. Your baby can go about doing anything while in the swing and he/she will stay secured.
With two-speed vibration settings, ten melodies and five nature songs, and three plush hanging toys, you baby will stay as relaxed as ever.
The swing runs on both batteries and an AC adapter. Use the AC adapter when near an outlet, or use batteries for convenience and portability.
Pros
Dual mode – swing and rocker
Multiple swinging directions to soothe your baby
Runs on both batteries and AC power
Provides optimal security with the five-point harness belt
Plush removable pad that is washable
Sturdy and stable.
Cons
Loud clicking sound
The music volume is slightly low.
Verdict
If you want a baby swing with multiple soothing methods, the Graco Duet Soothe Swing and Rocker will be your best choice. The swing and rocker functions will keep your child happy, comfortable, and entertained at all times. The swing and rocker combo, coupled with the dual power options will offer better convenience.
Best Reclining Baby Swing Buyer's Guide
It's not just enough to go the market and purchase a reclining baby swing. Before you purchase a reclining baby swing, there are certain features you need to be aware of. These features include safety, design, padded seat, power source, cost, etc.
Safety
How safe is the baby swing? Does the baby swing have safety features that will safeguard the baby from falling to the ground? These are questions you should ask before paying for a baby swing.
As far baby swings and the baby are concerned, safety is the most crucial factor to consider. A reclining baby swing should have a seat belt, either a three-point harness belt or the five-point harness belt. Whenever your baby is in the swing, you should always put the safety belt on him/her. This helps to keep the baby safe and secure.
Design & Construction
How sturdy is the swing's frame? Are the baby swing's legs stable enough to accommodate the weight of your baby? Do you want a baby swing for traveling or a full-sized baby swing?
A swing's frame is either made of plastic or metal. Metal frames are studier than plastics, but have a low resistance to weather. However, there are baby swings with strong and durable plastic frames, so you should always be on the lookout for those ones.
You should opt for baby swings with a wide base. A sturdy baby swing with a wide base should allow you to make adjustments to the seat's position, speed setting, height, etc. without losing balance or tipping over. The goal of purchasing a sturdy, durable frame is to hold your baby's weight without losing its stability.
Speaking of travel baby swings, you should get one that isn't difficult to move around if you want one. Also, you should get one that's easy to fold, and not one that will give you issues since you will be traveling  lot. If you are not so frequent with traveling or don't travel at all, a full-sized baby swing will be a better option.
Some parents have both types of baby swings at home for more convenience. If you are not low on budget, you can get a portable swing as well as a full-sized baby swing.
Swing Speed
All baby swings have swing speeds. However, some have more speeds than others. If your priority in a baby swing is its speed, then you should go for models that offer more baby swings. The Primo 2-in-1, for example, offer eight adjustable swing speeds, while others offer six swing speeds.
Seat's Comfort
Since your baby will be spending some quality time in the swing everyday, you will need to make sure the seat is comfortable. You will want the seat to be well-padded and come with a material that is thick enough. Additionally, a baby swing with a plush, comfortable headrest is an added benefit. It will provide more support to the spine and neck.
Power Source
Some swings run on batteries or via plug-in, while others run on both power sources, which is cost-effective. If you are at home, you can use the plug-in option,  but if you don't have an outlet nearby, batteries will come in handy.
Most portable swings run on batteries, while most full-sized baby swings run on both or run exclusively on an AC power. So you should choose carefully which one you want.
Ease of Cleaning
At some point, the baby swing's seat will have to get filthy and messy by diaper blowout or baby's spit, etc. Because of this, you should get a baby swing with removable and washable seat covers. You should be able to take off the cover without any issues and toss in the washing machine. A baby swing without a removable and washable seat cover should be avoided.
Extra Features
Some baby swings have a timer function and other features like vibrating seats, toy mobiles, a music box, Bluetooth Function, Sensing technology, etc. Be aware that a baby swing with all these features will cost more than a baby swing with basic features.
Conclusion
Due to several baby swings out there, choosing the best reclining baby swing is always a challenging task. This has left many parents, especially first timers in absolute state of confusion when deciding the appropriate baby swing for their babies.
Thanks to this in-depth review, purchasing the best reclining baby swing will no longer pose any problem. All baby swings reviewed here have the best adjustable recline seat positions to enhance your baby's comfort.
Additionally, they come with intuitive controls and innovative features that will make operating the swing convenient and faster.
FAQs
What is the best reclining baby swing?
There are so many excellent reclining baby swings in the market, but the Graco Sense2soothe baby is the best reclining baby swing. It has got three recline positions, and other outstanding features, such as vibration settings, removable toy mobile, and Cry Detection technology.
Is the 4moms mamaRoo a good baby swing?
4moms mamaRoo is an excellent, compact baby swing with outstanding features to offer the best comfort, entertainment, and relaxation.
Can newborns sleep in mamaRoo?
Young babies can sleep or use the 4moms mamaRoo baby swing until they are 9 months old or exceed 25 pounds, which is the recommended maximum weight limit for users of the mamaRoo swing.
Are baby swings worth it?
Yes, having a baby swing absolutely worth it. It's not necessary to have a baby swing, however, but it can prove to be a vital baby gear that will ease your burden by keeping your little one happy.
Are baby swings ok for newborns?
Baby swings are perfectly okay for newborns. They can take a nap in it, but not sleep. The American Academy of Pediatrics suggests taking the baby out of the swing and placing him/her in a bassinet or crib when it's time for them to sleep.
Can a baby swing cause shaken syndrome?
It's not yet proven that a baby swing causes shaken syndrome since the syndrome itself doesn't result from bouncing, swinging or accidents like falling off the swing
Important Reads: