Kids accomplish their development goals in tiny steps. One by one, each accomplished milestone depicts their growth and maturity. It is important to give your kids toys that are appropriate for their age.
Physiologists suggest choosing toys that fulfill a child's developmental needs. It is because these toys can greatly help in the progress of the child's social skills, motor skills, and cognitive skills. They also assist in better mental and emotional growth.
There are varieties of toys available in the market that boosts child development. One of the highly beneficial toys is steering wheel toys for the toddler.
These wheels also provide enough physical activities. When kids play with it, it makes their muscles and bones stronger.
In this article, we are going to list 23 best steering wheel toys for the toddler. It is a big list to choose a suitable toy from.
List of 23 Best Steering Wheel Toys for Toddler
1. VTech 3-in-1 Race and Learn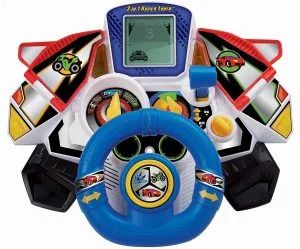 This one of the best steering wheels offers versatility. It allows your child to play a racing game in three different ways. They can use a jet, car, and motorcycle to play a racing game.
Additionally, it won't let your child get bored with this game. It offers nine different courses. So, every time there will be a new track for your kid to explore and enjoy.
This steering wheel toy also gives a feel of a real driving experience. Its controller is vibrating that allows your child to feel the actual racing fun. Moreover, when children shift the gear, it plays real racing sounds.
Wouldn't it be amazing to excite a kid? It is suitable for kids age 3 to 6 years.
Besides giving the benefits of the wheeled toy, it also serves the purpose of an educational tool. Your child can learn spelling, numbers, shapes, and letters from it.
2. Eastern Jungle Gym Green Plastic Steering Wheel Swing Set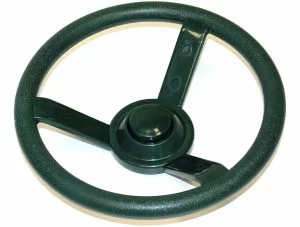 Parents know this fact that kids get more attracted to routine life tools. If you give them both their toys and any daily life accessories/tools, they will choose the latter.  
So, why not give them a toy that they actually want? This Jungle Gym steering wheel seems like fulfilling this need.
It is a simple wheel toy made up of good quality and durable plastic. You would need to connect it to any wall or another base. It comes with its mounting hardware. Its installation is also quite simple.
This wheel also comes with a center cap to cover the bolt part. It gives a nice appearance to this toy. It is a green-colored wheel with a diameter of 11 inches. 
3. VTech Turn and Learn Driver (Frustration Free Packaging)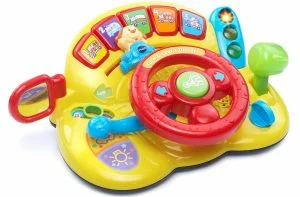 This one of the best steering wheels comes with numerous amazing features. It basically has a wheel that will make your child pretend the driving.
Moreover, it has a lovely dog character on the top of the wheel too. It moves back and forward on rotating the wheel.
Well, that's not all. It has five colorful buttons at the top. They produce different animal and vehicle voices. It could be a great source to give your toddler early education.
It also has traffic lights and a gear shifter to let your kid know about daily life things. It has three different modes including music, animals, and driving.
This wheel toy is suitable for kids of 6 months to 2 years.
4. TOMY John Deere Busy Driver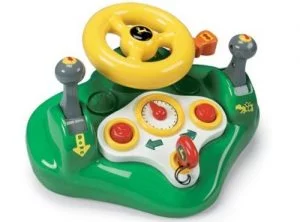 This TOMY John Deere Busy Driver is another one of the best steering wheels. The remarkable trait of this toy is it copies the features of real tractors and produces similar sounds too.
So, at the start, it has a tethered key that kids can move to start the engine.
It has a steering wheel at the center with a horn in the center. All buttons and knobs are interactive to keep busy for hours.
Kids can shift their gear too. On pushing it up, towards a rabbit, it will produce a fast action noise. When you will pull it down, towards the turtle, it will create a beep sound.
It also comes with a lever that can make turn signal arrows to flash.  It even comes with a hazard button that gives flash and produces sound.
Along with the musical sounds and click click odometer sound, this steering wheel can keep your children fully occupied.
It is made up of reliable plastic.
5. Swing-N-Slide WS 1524 12″ Pirate Ship Wheel for Swing Sets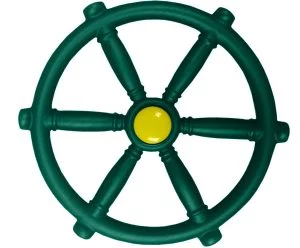 This one of the top steering wheels on our list is a bit different. It doesn't represent any vehicles' wheel. Rather, it is made by copying a real ship wheel, and it actually looks like that.
While playing with this wheel, you child can enhance their imaginations and socializing skills.
This toy is made up of sturdy plastic. It has a diameter of 12 inches. It comes with all mounting hardware and guideline. So, you will find it very easy to install.
In order to bring practical effects, this one of the best toys has detailed spokes and handles along with the brightly-colored yellow axle.
6. CASDON Sat Nav Steering Wheel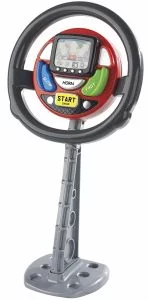 This top-class steering wheel is unique to others on our list. How? It contains an imitated Sat Nac device. What's its purpose?
It interacts with this steering wheel and makes kids feel like an actual driver. Parents understand how much kids want to get involved in response activities. This steering wheel could be the top-class option to fulfill the desire.
This wheel toy also gives a number of commands to a kid. Even, this one of the amazing toys has the ability to give child feedback depending on the performance.
Another remarkable trait is its ability to produce realistic sounds. It includes the sound of a horn, gear changing, and braking, etc. It even comes equipped with flashing indicators. 
7. Battat – Geared to Steer Interactive Driving Wheel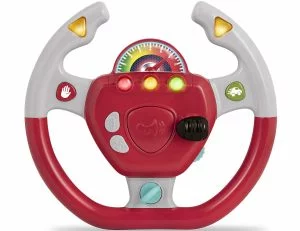 This multi-colored steering wheel could be the top choice for your kid. It is colorful, and it is amazing.
It helps developing multiple skills in your child in a fun way. It also teaches them the basic manners that would help them to become responsible drivers in the future.
It will allow your toddler to turn the key, and rev the engine. It even gives the opportunity to shift the gears.  It will result in changing the position of the odometer needle.
However, it doesn't stop here. The odometer needle will move as you speed along with the speeding sound i-e zoom.
Moreover, it will light up three traffic signal lights with intervals. Your kid can follow them to imitate a real-life driver. What else could be a better way to teach your kid to follow the signals?
It also has an amazing sound system with two songs in it.
What about parents? Well, they have a volume control option; in case a child's continuous play is giving them a headache.
8. Dimple Children's Play Steering Wheel with a Ton of Buttons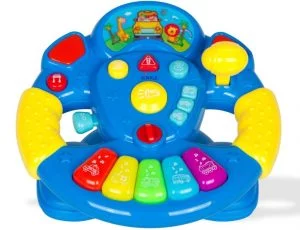 This top-class steering wheel comes with bright colors and numerous sounds to keep kids busy. It also offers great interaction opportunities with its various buttons.
This lightweight wheel contains gear shift level, brakes, and 5 buttons to produce different sounds.
In short, this toy contains almost everything your baby might need to feel like a real driver. The lights and sound combination can keep them mesmerized for long hours. Moreover, it could be a great tool to get anyone used-to to daily life sounds.
9. Steering Wheel Toy Cars Simulated Driving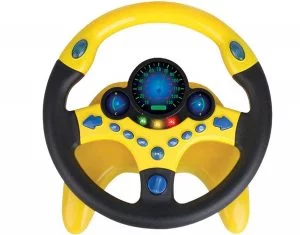 Is your toddler curious to drive a car? Do you feel annoyed by their wish of driving too early? Well, bring this steering wheel.
It is going to fulfill their desire by simulating car driving. So, this wheel has the following features:
This yellow and black wheel has blue-colored buttons. It mimics the sound of the starting engine on turning its keys. Moreover, it also has three traffic signal lights along with more flashing lights.
On pressing the horn button, it produces a beep sound. It also possesses left and right indicator buttons and flashing lights.
10. Electronic Backseat Driver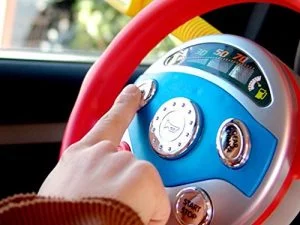 Does your child annoy you while you drive? Do you seriously want to resolve this problem? Well, you need to buy this steering wheel toy.
This colorful turnable steering wheel comes with sounds and lights. It produces practical car sounds like starting the motor, indicators, honk, breaks, and three gears.
It also comes with indicators, equipment, and hazard lights. What else could you ask for in a toy steering wheel?
In order to give your toddler support, it contains a suction cup. You can attach it to the side window. It also has an imitated mirror made up of safe foil to bring things close to reality.
11. Kids Driving Steering Wheel with Lights, Music and Sound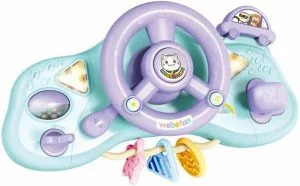 This one of the best steering wheels contains multiple features to hold your kids' attention. Firstly, it has great color combinations. The whole layout can boost imaginative plays.
Besides having sound, light, starting key, and lever, it has rattles too. So, a baby can enjoy it to the full extent.
In order to provide variety, this toy possesses more than six melodies, tunes, and sounds.
This top-class musical steering wheel toy is manufactured using ABS plastic. It is BPA free and ecofriendly.
12. Steering Wheel Toys for Kids with Music and Light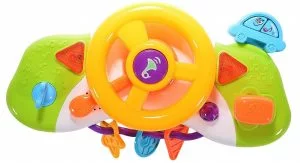 This one of the best musical steering wheel toy possesses charming colors. It produces lights and sounds effects to keep the baby busy and happy.
It even contains a starting key, lever, and a horn button. It produces sound according to the child's actions of pressing various buttons.
Well, this toy is not all about driving only. It has rattles too. So, when your kids feel tired of becoming a driver, they can play with rattles. 
13. eKids Disney Pixar's Cars 3 MP3 Smart Wheel with Stream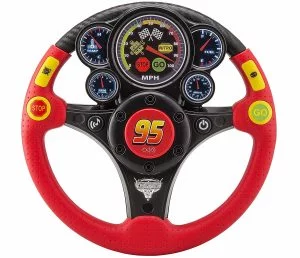 This eKids Steering wheel toy can greatly help your child to enjoy the real-life driving experience. It is highly reactive. It gives a response to your child's movement.
With its light-displays, it is enough to excite your child while they pretend a real driver's life. It is red and black in color and contains multiple odometers to mimic a real car steering wheel.
What's more? It comes equipped with catcher technology. It allows you to record and playback audios.
14. PlayGo Steering Wheel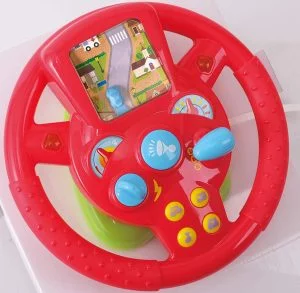 Does your small child feel excited to mimic routine tasks? Is he interested in driving? You should get him this PlayGo steering wheel. It has bright colors and looks cool.
It has a horn button, brake, and sounds buttons. It even has an imitated fuel-checking scale too. What's the best thing? It is the road track along with a character. It moves on the road track as the kid plays a game.
15. Steering Wheel Toy "My Little Driver" with Motion Sensors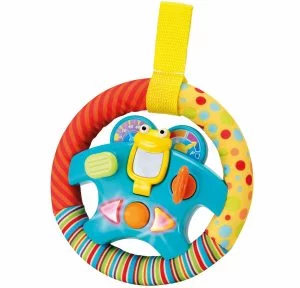 This Steering wheel toy could be the best option for your baby. The material of the wheel is very soft and easy to hold by little hands.
Moreover, its colors are bright and patterns are fascinating. Your kid will spend hours merely staring at these patterns.
It also comes with interactive buttons and a knob that gives sounds effects. It has a small flip-up mirror too. What else could be more fascinating for a baby to see his own reflection?  
You can either give this in hand to your toddler or attach it anywhere with its Velcro strap.
16. Co-Pilot Toy Steering Wheel with Lights Music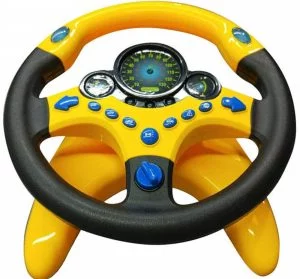 Does your child gets bored on long journeys? No worries, this steering wheel toy is going to engage them for long hours.
It comes with lights and sounds options. The interactive buttons respond to kids' actions related to driving tasks.
So, there are separate buttons for turning left and right along with indicator lights. It has horns and buttons to produce various sounds like ambulance, police, and others.
With traffic signals lights, this toy is probably the best option to teach your kid basic traffic rules.
17. Luerme Steering Wheel Toy Electric Musical Simulated Driving Steering Wheel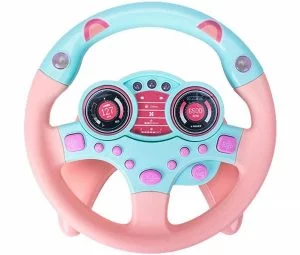 This one of the best steering wheel toys is a versatile piece. It is equally appealing to a baby and a toddler. This colorful toy has horn options and a button to play melodious sound. The gear shifter, mirror, lever mimics a real car.
It also has a display screen with a beer character. It will move along the driving movements of the kid.
18. M SANMERSEN Baby Musical Toys, Steering Wheel Toys for Baby Toddlers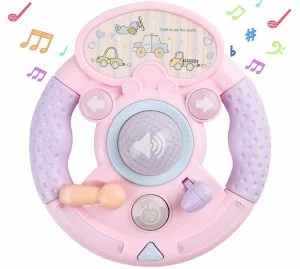 This one of the best steering wheel toys is appropriate for babies. It comes with basic functioning to keep your baby busy while enhancing their skills. It gives off sounds and lights effects.
Its gear shifter, lever, and a screen could be the new thing for a little one to explore.
19. Playgro Music Drive and Go for Baby Infant Toddler Children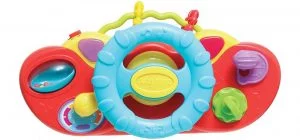 This Playgro musical wheel toy serves multiple purposes. First, various sounds can stimulate a kid's auditory improvement. The gear shifter, starting-key, lever and other buttons along with springs can improve fine motor skills.
The texture of its rings can help soothe a teething baby.
20. BEST LEARNING My Spin & Learn Steering Wheel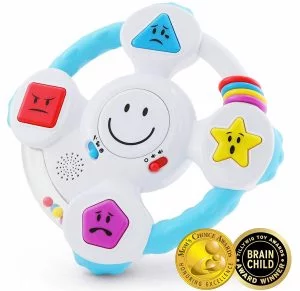 This one of the best steering wheel toy is unique. How? Its color is different that is a beautiful combination of white and light blue. The multi-color rings and buttons make it looks appealing.
It can serve as a great learning tool for babies. It can help you teach your kid shapes, colors, and even different moods.
21. Winfun Super Speedster Steering Wheel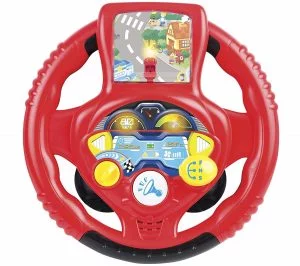 This toy steering wheel copies a lot of actual car's features. So, it gives a starting engine and horn sound. With its headlight and torch option, it provides kids versatile fun.
Moreover, it also has a screen that has a car too. When a toddler moves this wheel, the screen car also moves according to your child's actions.
22. Hellofishly Steering Wheel Toy,Children's Sounding Toy Cars Simulated Driving Steering Wheel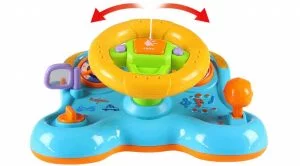 This toy car steering wheel is a complete driving set. It feels like a small vehicle for kids. You can turn its wheel to both rights and left direction.
Furthermore, there is a gear shifter, a mirror, and a starting engine button. Along with its horn, flashing lights and indicators, it can mimic a real driving experience.
23. CP Toys Battery-operated Sit On Moving Screen and Lights & Sounds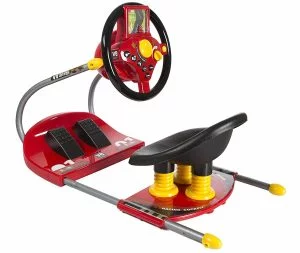 We can say this CP Toys steering wheel is one of the best toys. It not only mimics the wheel only but a driving seat as well.
This toy offers versatile features too. It gives 7 different audio effects, horn, and two different speed levels.  It is made up of high-quality material and the seat is adjustable too.  
How to Choose Best Steering Wheel for Toddler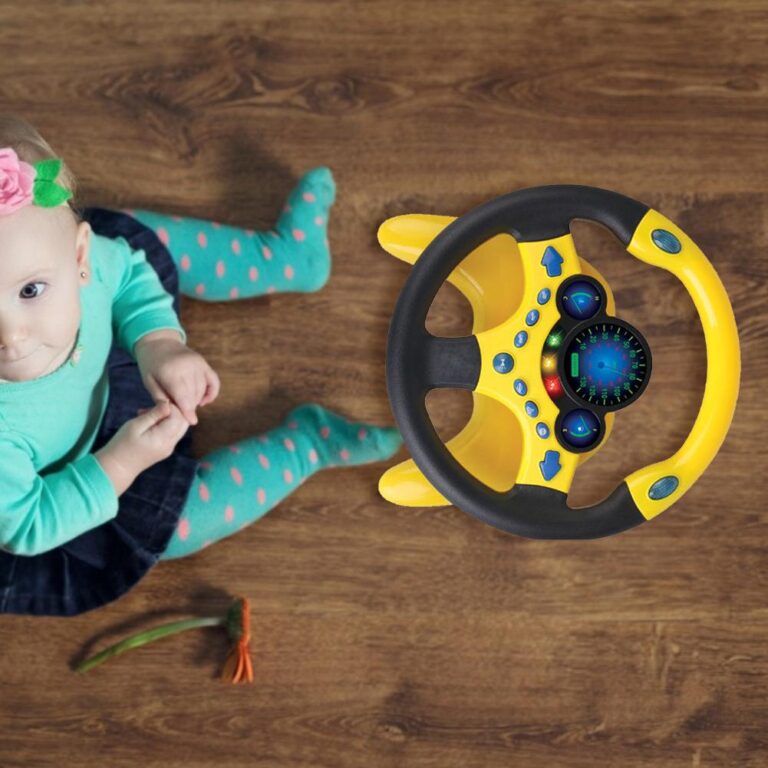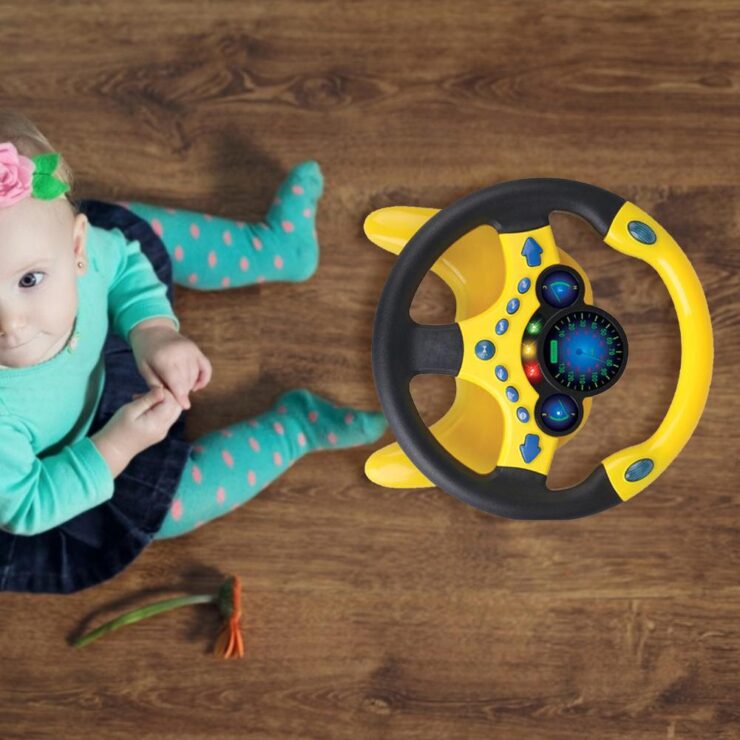 Best Steering wheel toys are a hit with most babies and toddlers – taking them to go lets kids "drive along" with mom and dad from the safety of their car seat. Using them at home encourage imaginative play and independent play.
Steering wheel toys also encourage hand-eye coordination, gross and fine motor skills development, and more advanced concepts like push-pull. Many of the Steering Wheel toys on this list also have changeable themes, with songs or topics such as colors and shapes for younger kids, and themes such as fire truck or ambulance for older kids.
Conclusion
Steering wheel toys are amazing to build various skills in kids. These developed skills help them to perform complex tasks later in their life like best easels for kids. In this article, we have listed the 23 best steering wheels for toddlers. It's a huge list that would help you to choose the most appropriate option for your child.
However, you should consider the safety of your kid before buying any of these toys.