Having a baby is a blessing. But, it is not simple or easy at all. It is because, the little one, besides joy, brings with them tons of responsibilities. You would probably never to able to have boredom once you have a baby. They will keep you busy in their little tasks. However, household chores and other responsibilities would stay the same.
Doesn't it seem exhausting? Well, it actually is. Beside all these duties, there is one trivial yet difficult task that parents need to do. It is the continuous cleaning and sanitizing baby stainless steel bottles. 'Oh, it's quite an easy task', you might hear people responding.
Only parents can understand how tedious and tricky it gets at times. However, the good thing is we have an assisting tool in the form of a handy baby brush. There are numerous baby bottle brushes available in the market. They come with various features. Well, which one could be the best option for your baby?
Invalid table id.
You might be able to answer this question after reading this piece. It is because we are going to review the top best baby bottle brushes of 2023.
Before we proceed, let's take time out to discuss a basic concept of these bottle brushes.
Why you need a Baby Bottle Brush?
You can't clean your baby's bottle with a regular brush or a sponge. It is because of its narrow shape. In order to reach down each and every corner of the bottle, you would need to buy a baby bottle brush.
It is actually important to clean milk residue and germs out of the bottle. So, a brush cleaner is actually a must-have accessory for parents.
Buying Guide for Baby Bottle Brushes
How can you buy the most appropriate bottle brush for your baby? Well, there are a few aspects that you need to consider in order to avoid the chaos of purchasing the wrong item.
Bristle typesSpongeHandleStorageNipple brushGentle cleaning
The bristles of the bottle brush play a special role in cleaning. You must evaluate them first. There are basically two types of bristles available.
One of them is soft, and the other one is stiff. Normally, a brush with soft bristles would be a great option. However, it will work best only when you will clean the bottle right after the feeding.
It is though a good practice to clean bottles immediately, or just rinse them properly if you are short of time.
The other type, stiff bristle comes handy when there is residue build-up inside. In this case, stiff bristles will help in thorough cleaning. It is, however, suitable to purchase both types of bottle brushes to use in various scenarios.
It is worthy to have a sponge tip on your bottle brush. Why? It helps in cleaning build-up in a single move. Moreover, it gently cleanses the bottle.
However, it is important to remember that sponges accumulate filth quickly. You should take special care to wash them properly after every use.
The handle of the bottle brush plays a significant role in defining your efforts for cleaning bottles. You should, therefore, consider it before buying.
The wand of the brush should be long enough to be held easily.
There are few bottle brushes that have a suction cup to put them in a place after use. However, some items also come with a separate stand to hold the brush.
There is a huge size difference in a bottle and a nipple. It again becomes a problem while cleaning. The normal bottle brush usually doesn't get inside the nipple leaving it dirty.
There are few brushes available in the market that comes with a separate tiny nipple brush. You should consider purchasing those sets.
The baby bottle brush should be soft and able to perform gentle cleaning. It should not be too hard to scratch the bottle.
List of 7 Best Baby Bottle Brushes 
These are the basic things that ask your consideration before purchasing a bottle brush. Let's move to the reviews of a few best baby bottle brushes.
1. OXO Tot Bottle Brush with Nipple Cleaner and Stand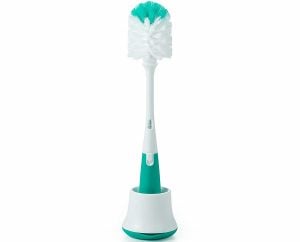 Do you want to buy accessories or kitchen gear that can make your life easier? Well, the OXO brand is going to fulfill your desires.
OXO brand has always played an important role to deliver quality and valuable products to its customers. This Tot Bottle Brush is one of these products.
Here are few of its distinguishing attributes:
Two-textured bristlesAccurate shapeComplete cleaning solution
Are you worrying about brush bristle's type, and want to buy both soft and stiff? Don't worry; this bottle brush will serve in both ways.
It has soft bristles on its sides. It gently scrubs the sides of the bottles. However, in the middle, there are stiff bristles too.
They help in digging out residue and stubborn build-up out of the bottle.
Baby bottles come in different sizes. It could be really frustrating to find a suitable brush for a specific bottle shape.
Well, this Tot baby bottle brush has tackled the situation wisely. It has a shape that can clean a bottle or sippy cup of any size or shape.
Its rounded dome shape at the top seems like the actual bottle shape. Therefore, it proves very effective to thoroughly clean the bottle.
The top head of this bottle brush is flexible. It thus provides more control to access all parts of the bottle and to scrub it.
Moreover, it also comes with a nipple brush that is hidden though. It is very small and effective to reach each and every corner of the nipple.
However, it is quite gentle to not tear the silicone of the nipple. Are these features enough to declare it as the best bottle brush? Well, that's not all…
This brush also comes with a sink stank. It keeps the brush dry and clean. This brush is dishwasher safe.
2. Dr.Brown's Bottle Brush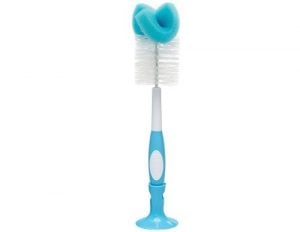 Dr. Brown is a big name when it comes to baby bottles. Luckily, besides baby bottles, Dr. Brown's brand has worked for making a remarkable baby brush too.
This bottle brush is an example. Let's have a look at its valuable features:
Dual-cleaningEase-of-useConvenient storage
This baby bottle brush was basically designed to clean Dr. Brown's wide-necked bottles. However, they are equally useful for bottles of other brands too.
This brush has stiff bristles that scrub the sides of the bottle. However, it also has a sponge on its top. It helps in gentle and detailed cleaning of the milk residue from the bottom of the bottle.  
Having both these cleaning items can make it very simple to wash the baby bottles.
This baby bottle brush comes with an ergonomic handle. As you are going to tackle water and soap while washing bottles, it could get slippery.
In order to cope with this situation, Dr. Brown has made a handle grooved. It stays in your hand while you wash the baby bottles quickly.
However, that's not all. There is a small compartment at the bottom of this brush. It has a nipple brush inside.
You can use it to access every corner of the baby bottle nipple.
This baby brush comes with two storage options. It has a stand and a clip too. You can either put it anywhere on the stand or hang it with a clip near the sink.
This versatile feature brings a great amount of ease for parents.
3. NUK Triple Action Bottle and Nipple Brush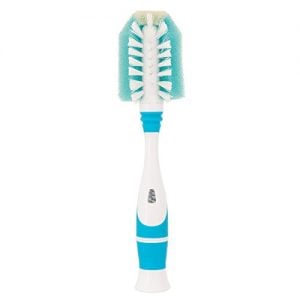 Do you want to perform an actually thorough cleaning of your baby bottle? Are you not satisfied with a brush having bristles only?
This NUK Triple Action Bottle and Nipple brush is your solution. It comes with some remarkable features. Here are a few of them:
Triple cleaning actionNipple brushAnti-slip handle
It has three different cleaning textures to clean each and every part of the bottle.
So, at the top, it has a scrub. This feature is something difficult to find in many other baby bottle brushes. This one of the best brushes possesses it.
This scrub helps in easy cleaning of hard and stubborn milk residue. Moreover, it has stiff bristles on its sides.
Along with the bristles, there are layers of sponge too. The good thing about its sponge is, it is anti-microbial and odor resistant.
So, unlike many other nominal brushes, this one won't make you feel disgusted because of the sponge. Furthermore, its bristles are angular. Thus, they can access all parts and corners of the bottles effectively.
Besides triple cleaning action, this brush also comes with a separate nipple cleaning part. It is hidden inside the main part of the brush. You can rotate it to take out the small brush.
It is small yet powerful to properly clean the nipples.
Do you find it difficult to keep holding the brush when it is wet? Many parents might struggle with it. So, this one of the best NUK bottle brush comes with a non-slip and comfortable handle.
Moreover, it also comes with a stand to store the brush in a nice way.
4. MAM Soft Baby Bottle Brush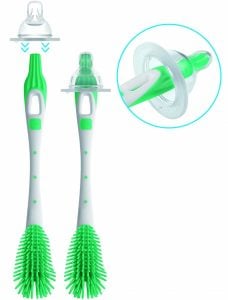 Are you one of those parents who are conscious of baby bottle scratches? If yes, this MAM Soft baby bottle brush can be the best option for you.
Here's why:
Gentle cleaningComplete accessNipple brushConvenient handle
This baby bottle brush is unique. It doesn't have a sponge or regular stiff bristles. Rather, it has bristles made up of rubber. So, it doesn't scratch the bottle no matter how hard you try to remove the build-up.
The rubber bristles are accumulated together in such a way to make a specific dome shape. It thus helps in accessing all corners of the bottle regardless of its shape.
Moreover, they are flexible to change in order to adjust inside the bottle. Thus, you can use this brush with a wide variety of baby bottles.
Another unique trait of this cleaner is its nipple brush. It is present on the bottom side of this brush. It has almost a similar shape and working like the main brush only the size is small.
It helps in reaching all points of the nipple properly. Thus, you can have peace of mind about feeding your children in clean bottles.
The handle of this MAM soft baby brush gives a nice grip and effortless cleaning. Moreover, it has a wide hole. So, you can hang this brush for hygienic storage.
5. Foonii 6 in1 Bottle Brush Cleaner Kit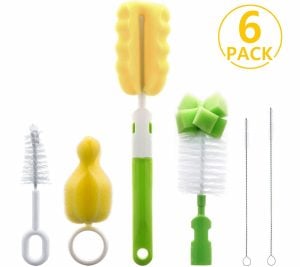 Are you looking for a complete baby brush set? This Fooni 6 in 1 Bottle Brush Cleaner Kit might be the best option for you.
Here are the details of its few distinguishing features:
VersatilityEasy storage
This Fooni Bottle Brush set could be the best versatile cleaners' option available in the market. It comes with 6 items to give you a complete cleaning solution.
First, like a traditional bottle brush, you have a large brush with stiff bristles and a top-sponge. Now, if you are more into gentle cleaning, you can remove the stiff bristles part.
You can attach a full sponge accessory on its place. It will allow gentle and quick cleaning of the milk residue.
Besides, it also comes with two different nipple cleaners. The first one is the typical brush with stiff bristles. The second one is all sponge brush. It is suitable for the times when there are no stubborn build-ups.
This foamy small brush will allow you to quickly and gently clean the nipple.
What's amazing? It comes with two very thing tiny brushes. They serve the purpose of cleaning those parts that are very hard to reach.
In the case of sippy cups, it could be the inside part of the straw. However, they are also useful to clean the rings of the bottle.
In order to make storage easier, this bottle comes with hooks on all its parts. It gives you an opportunity to hang and let them air dry.
6. Philips AVENT Bottle and Nipple Brush

Which parent is unaware of Philips Avent? It is one big name for baby bottles and other accessories. We have its bottle and nipple brush in our list of best brushes.
Here are a few of its worth mentioning features:
Effective brushNipple brushHandiness
Uh, no dome shape? This is something you might feel on seeing this brush. Well, it might seem ineffective, but it is not the case with this one of the best baby brush.
This cleaner has bristles only at its one side. However, they are concentrated in one place. Thus, it helps in precise and accurate cleaning.
If you are wondering about cleaning the bottle base, it has a solution for it too. It has a curved brush that accesses each and every corner of the bottle.
Moreover, it has bristles on its top too. So, you can clean the bottom part conveniently.
In order to remove residue from nipples, it has a cleaner part on the base of the brush. The long wand of this AVENT brush has a small tip on its bottom that has bristles.
It serves the purpose of cleaning the nipple. Well, what's the best part? It is attached to the main brush and you won't need to worry about losing it anytime.
This baby bottle brush is available in three different colors. So, you can choose according to your choice and use it. You can buy s separate color brush for different bottles or sippy cups.
 What's more? You can clean this baby brush by putting it inside the dishwasher. It is completely safe for it.
This brush also comes with a hole. It allows you to hang it and let it air dry for better hygiene. It is made up of BPA free plastic.
7. Simba Baby Rotary Spinning Bottle and Nipple Brush Set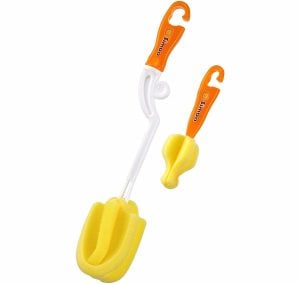 Do you want someone else to perform a bottle cleaning task on your behalf? Well, this Simba Baby Rotary Spinning Bottle Brush Set will do it for you. 
How? Here's the real story:
Rotatory brushGood quality material
This baby bottle brush is very unique in terms of its rotatory function. This trait also makes it one of the best baby brushes available in the market.
It works by rotating the sponge part of the brush and perform cleaning on its own. All you would need to do is to hold the brush from its tip, and it will rotate at 360 degrees for effective cleaning.
It will prevent you from the efforts of moving the brush and doing all cleaning procedures on your own. It could be a great blessing for those who have dirty bottles and other chores at the end of a long hectic day.
This baby brush contains all the sponge part. Many people might feel it weak. However, this is not the case with this cleaner.
It has a sponge of very high quality. It can endure high temperatures and long term use. Still, if you feel its performance a bit less effective after some time, you can order it replacement.
It is easily available. Moreover, its sponge won't scratch your baby's bottle.
This set also comes with a small brush to clean nipples. It is a similar brush with a full-sized sponge with the difference of size only.
Conclusion
Cleaning baby bottles is a very difficult and boring task. However, you can make it easier with the help of a baby bottle brush. These brushes thoroughly cleanse out the germs and dirt out of the bottle.
They further make cleaning procedure a simple and a bit effortless task. In this article, we have reviewed the 7 best baby bottle brushes of 2023.
As you can see from their reviews, they all come with different yet useful features. They have traits to reach each and every corner of various bottles that a normal brush cannot access.
They also allow easy build-up and residue removal. However, the specific choice of any baby bottle brush depends entirely on your choice.
Whatever option you select, don't forget to sanitize baby bottles after washing. You should also pay attention to the cleanliness of these brushes themselves.
They also need washing right after you are done with cleaning bottles. After washing these brushes properly, let them air dry to prevent mold or bacteria growth.
These rules are crucial in order to maintain the good health of your baby. And who will deny that the baby's health can affect parents' mental and physical health too?