The Lotus is more than a travel crib. It's an EVERYWHERE crib, so light, so portable. It sets up in 15 seconds. Use it everywhere, every day. At Home, At friends for dinners.
Lotus Travel Crib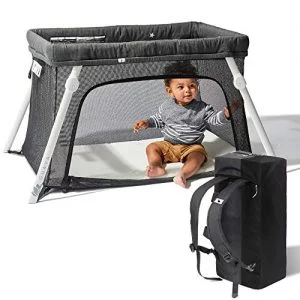 Since it is effortless to take the Lotus Travel Crib with you and super fast to set up, You'll go to more places and see more friends and family. Not just on overnight trips, but all the time at home and across the town. And since it's a lightweight backpack, both hands are available for everything else, including the baby and diaper bag.
Features
15 seconds set up.
Fits in a backpack for portability.
Greenguard Gold certification for safety.
Mesh sides allow complete airflow and a clear view of the child.
Nice sized mattress.
The unique zippered side door that makes to cool impact.
The fitted sheet included.
Product dimensions: 25.5 x 13 x 10 inches .
Product weight: 11 pounds.