All of the parents out there are probably aware of how difficult it is to navigate your day-to-day tasks and your mom- or dad-related duties.
It's no secret that it's extremely time-consuming and overwhelming at times. So, how can you make your everyday parent life a bit easier and more enjoyable? By finding as many helpful baby tools and gadgets that will simplify the burdens you're so familiar with!
Editor's Pick
Good Choice
Also Consider
Don't Miss
WiHoo Mini Handheld Stroller Fan,Battery Operated Fan Personal Portable Fan Car...
snawowo Upgraded Portable Baby Stroller Fan, 360°Rotate Rechargeable Mini Clip...
TRELC Mini Handheld Stroller Fan for Office Room Car Traveling BBQ Gym,...
SmartDevil Portable Clip on Stroller Fan, 3000mAh for Baby, 3 Speed Battery...
Some of these tools include a stroller, a stroller organizer, and finally—a stroller fan.
If you live somewhere where the weather is often hot but you and your kid enjoy spending time outside, you're probably worried about the heat affecting both your baby's health and mood.
To have the best time possible on your outdoor activities, you should get a stroller fan. Apart from the stroller canopy, this tool can help provide additional protection for your child and keep them happy and smiling.
We understand that finding the best stroller fan for your baby in 2023 can prove challenging, especially since there is a plethora of different brands and models to choose from.
Thankfully, we're here to save you from time-wasting by providing you with a list of all the best stroller fans you can purchase!
11 Best Stroller Fan For Baby 2023—Top Picks
1. WiHoo Stroller Fan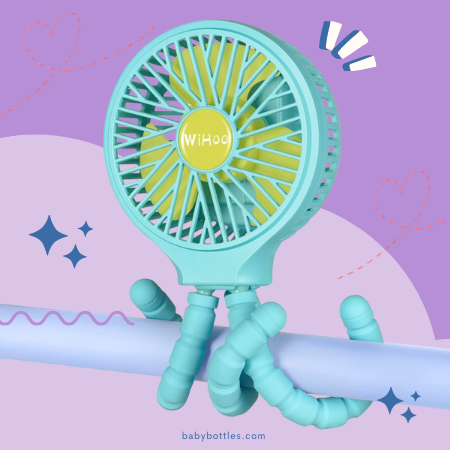 We'll start our list of the best stroller fans for your baby in 2023 with the WiHoo's stroller fan that comes in various colors!
If it's super important to you that your stroller fan goes perfectly with your stroller, you'll be happy to know you can get this one in more than one color, including black, white, pink, and blue! That way, you can get an exact match and call it a day.
This stroller fan features a unique flexible tripod design, and it's made of high-quality metal and silicone. You can bend it at any angle you want and attach it to your stroller effortlessly. Apart from attaching it to the stroller, you can also attach it to your car seat, crib, and similar.
The rechargeable battery should last from 6 to 15 hours, and fully recharging it takes no more than 5 hours. It can be charged by computer, laptop, power bank, or car charger. With upgraded fan blades and 3-speed types, you'll be able to set and tweak the settings however you want for your baby's ultimate enjoyment!
Pros
Various colors
Flexible tripod design
Long-lasting battery
2. Snawowo Stroller Fan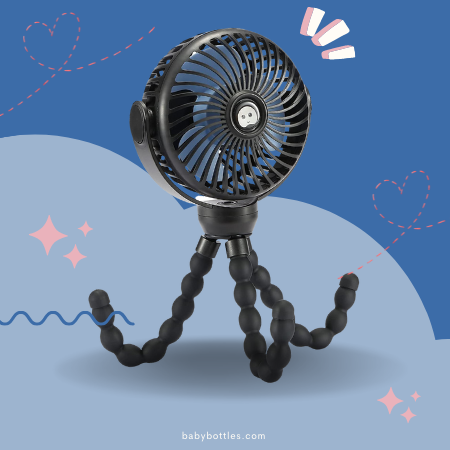 The next one on our list is the Snawowo waterproof stroller fan. This one will prove quite handy since it is super flexible and made of a waterproof silicone surface instead of the plastic and sponge surface.
This makes the fan be super sturdy and durable and lasts way longer. But, that's not where the benefits stop. The Snawowo stroller fan is also dirt-resistant and extremely easy to clean, and it offers you a full 360° vertical and horizontal rotation, which means you can adjust it at any angle and keep your baby cool at all times.
Since the fan is small in size and compact, you'll be able to bring it with you wherever you want. You can switch between 3 different wind speeds to find the perfect speed for your baby.
The best part is that the fan isn't loud and noisy, so you don't have to worry about it waking your baby up from a nap. Attaching it to a stroller, crib, bed, Peloton bike, treadmill, or car seat takes almost no time at all!
Pros
Waterproof
Dirt-resistant
Easy to clean
Cons
Has to be readjusted frequently
3. TRELC Stroller Fan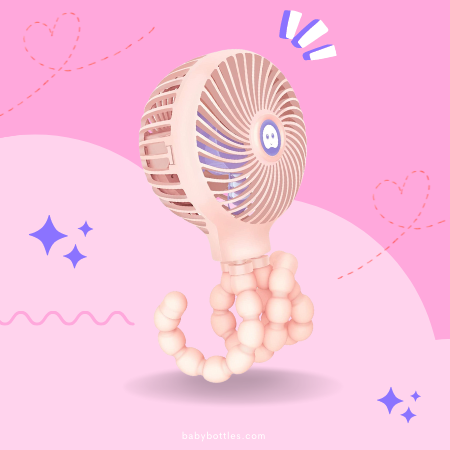 TRELC mini stroller fan features an upgraded transformable octopus mount that you'll find super useful. You can get this fan in four different colors, including black, white, pink, and green. The fan is made of bendable metal and silicone surface, which makes it very durable and easy to clean and maintain.
There are 3 wind levels you can choose from depending on what you use it for. If you use it on your outdoor strolls with your baby, you should consider setting it at low or medium.
Depending on the charging status and wind speed, you should be able to use the fan for 3 to 9 hours before having to charge it again. The best part is that the fan isn't noisy due to its brushless motor that helps achieve smooth rotate speed and reduce noise.
Pros
More than one color
Durable
Easy to maintain
Cons
The battery won't last for long
4. SmartDevil Stroller Fan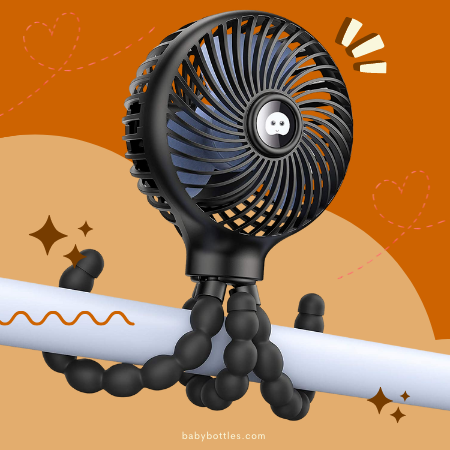 The next one on our list is the SmartDevil's stroller fan made of bendable metal and silicone surface that makes it super stable and extremely durable! If you're looking for a stroller fan that's very easy to clean and extra bendable, this one is a perfect choice!
You can bend it to any angle you want and use it as a desktop fan, handheld fan, wall fan, or even cell phone stand. You can switch between three different wind speeds easily and choose the one that fits your baby's needs perfectly.
SmartDevil stroller fan offers two types of power supply—USB-powered or battery-powered. Once it's fully charged, it can last for up to 8 hours.
Equipped with upgraded fan blades and a brushless motor to achieve low noise, this stroller fan will provide your baby with everything he or she needs to have the best time on your walks!
Since it's compact and foldable, you can put the SmartDevil mini stroller fan in your backpack to bring it with you when traveling, cycling, golfing, camping, or doing any other activity.
Pros
Stable
Easy to use
Two types of power supply
5. GUSGU Stroller Fan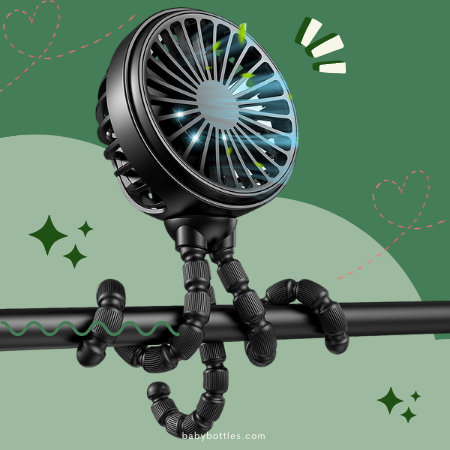 We'll conclude our list with the GUSGU portable stroller fan. You can use this fan in various different ways.
For example, you can stand it on the desktop, wrap it on the stroller, or hang it on your tent. With the 3 level speed function and the ability to achieve 360-degree horizontal rotations, you'll be able to direct the wind and its speed in any direction you want with ease.
The powerful 3000RPM turbo motor and the improved cool and quiet airflow function will provide your baby with mighty yet not loud or irritating noise.
Once you charge the battery, the stroller fan can be used for 3 to 8 hours. Wondering what you'll get with this fan? You will receive one USB fan, one type C charging cable, and a user manual.
Pros
Good quality
Durable
Great design
Cons
Uses a lot of battery power
Buying Guide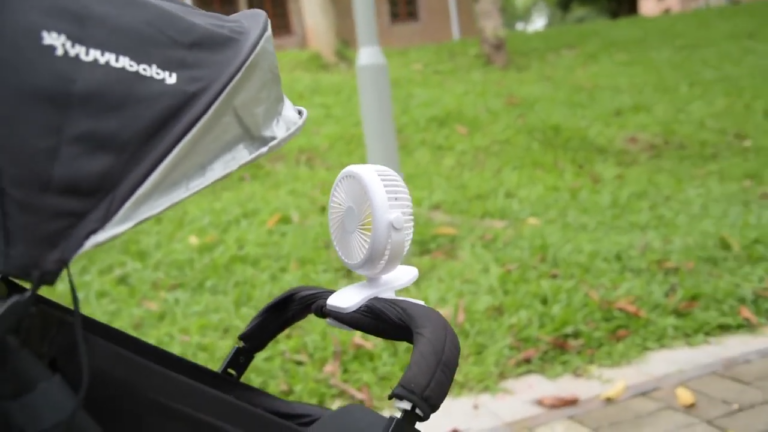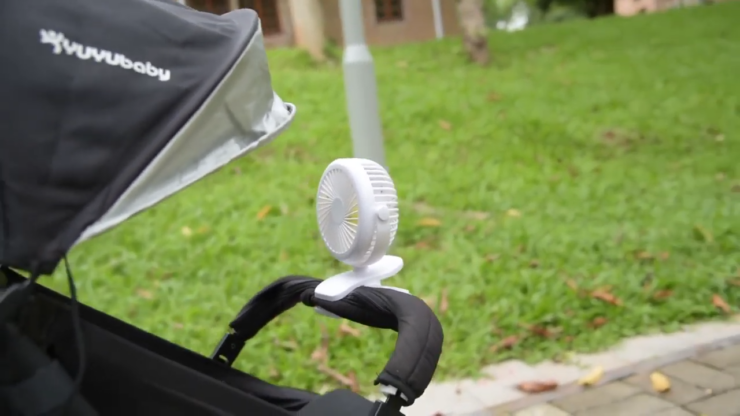 Buying the best stroller fan for your baby in 2023 is by no means a piece of cake, especially if you're new to purchasing baby gear. You should know what factors to consider before you make your final decision and purchase your stroller fan.
Not having this kind of information and going into your purchase blindly can result in you buying a product that won't meet all of your preferences, or even worse, that you won't be able to use at all.
That would only waste your time and your money, so to avoid it, you should get informed about all the crucial things that should be factored in when choosing a baby stroller fan.
Luckily, you don't have to spend time doing research on your own! We're here to break down each factor for you in our summarized list below! Here's what you need to pay attention to when buying a stroller fan for your baby in 2023:
1. Type
The mounting type of your stroller fan is a crucial factor because it needs to work perfectly with your stroller. Buying a fan that looks great but can't be attached to your stroller would be a waste of money.
There is no shortage of different stroller fans that have various mounting mechanisms but getting one that can be attached to a stroller is what you should be looking for. For example, a flexible tripod or a clip-on fan that can be attached to a stroller should be an ideal option for you.
2. Portability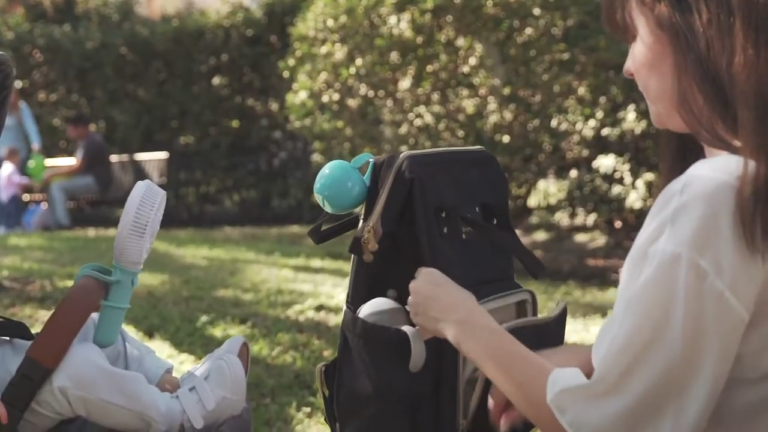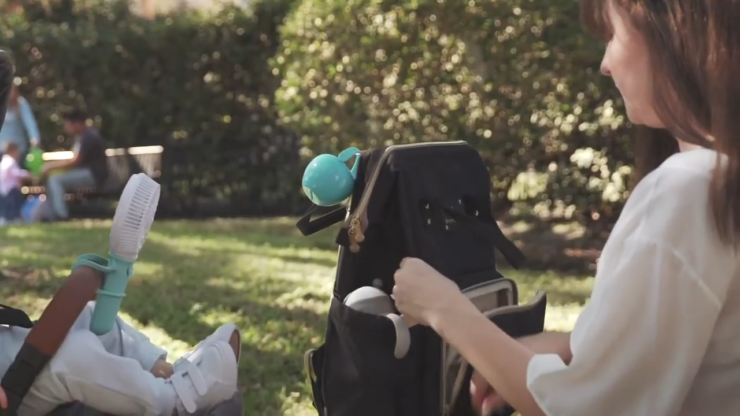 Since you're planning on taking your stroller fan with you on your walks, making sure it's compact and portable is a must. You don't want to get a fan that is too big and that you can't pack in your bag and attach to your stroller with ease whenever you want.
Make sure to check the product description, pictures, and customer reviews, to ensure that the portability of the fan is exactly what you imagined.
3. Durability
The durability and the quality of the stroller fan you're purchasing are extremely important. It's not uncommon for babies to throw their toys or anything else they get their tiny hands on.
If they manage to get their hands on a stroller fan, they could throw it on the ground in a snap. That is why your fan needs to be made of high-quality materials and durable.
Some of the materials that can make the fan last longer, be more durable, and that you should consider getting are bendable metal and silicone.
4. Speed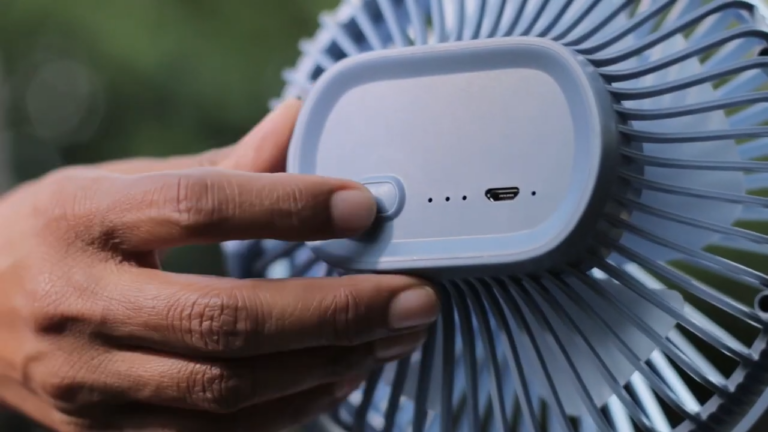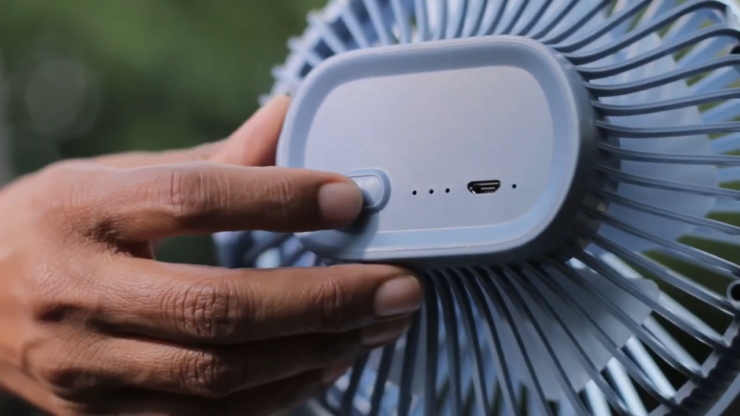 Being able to adjust the speed on your stroller fan will allow you to control the wind depending on what you use the fan for. For example, if you want to direct it at your baby, you would want to make sure it provides your baby with a light breeze instead of a strong wind.
A light breeze would be healthier and more enjoyable for him or her. If you use it for yourself, however, you can tweak the settings and make it a bit more extreme so that it can cool you off faster. The fans usually come with a few speed levels, so make sure you check this info before your purchase.
5. Battery
When it comes to the battery life of your fan, you want to make sure that you can use the fan for a few hours once it's fully charged, but that's not all. You should also consider how long it takes to get the battery fully charged.
That way, you can choose the best option out there that will not leave you pacing around and waiting for hours to unplug your stroller fan and go on your walk.
6. Design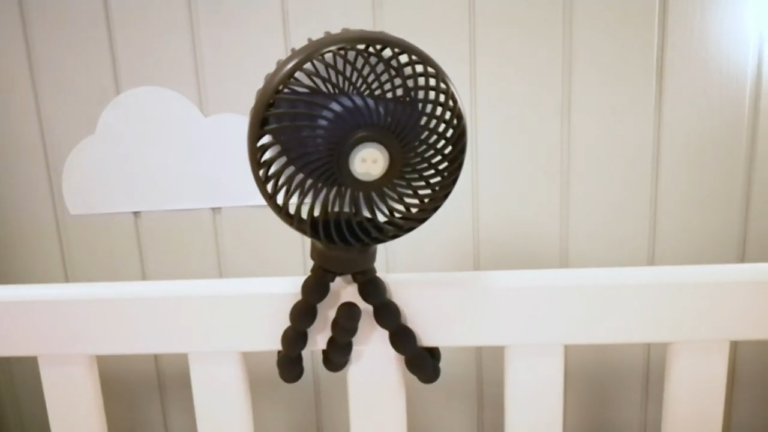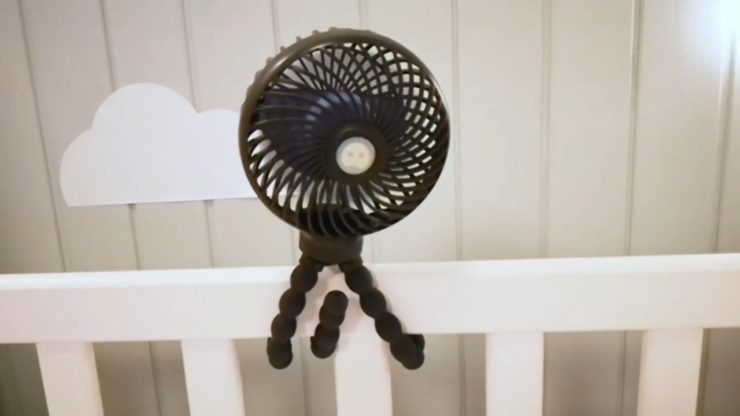 The last factor you should consider is the design of your stroller fan. Not only should you make sure it goes well with your stroller, but you should also think about what features it provides and how useful it can be.
There are many options, colors, and patterns out there, so look at product descriptions and reviews to see what neat features and functions you can look forward to.
FAQ
1. How Do I Know When a Stroller Fan Is Fully Charged?
Most stroller fans have a light that indicates when the fan is fully charged by changing colors. This is how it works for most models, but there can be some that work differently. It would be best to check the user manual and see exactly how it works for the model in question.
2. How Long Does Charging a Stroller Fan Takes?
This also depends on the model of the stroller fan in question. Most of them take from 3 to 5 hours to be fully charged.
3. What Are the Best Stroller Fan Brands?
There is no shortage of brands out there that provide you with amazing high-quality stroller fans. Some of them include WiHoo and SkyGenious, but you can find others that will fit all your needs perfectly.
To ensure the fan is exactly what you were searching for, make sure to consider the factors we stated in our buying guide before purchasing the product.
Conclusion
Buying the best stroller fan for your baby in 2023 doesn't have to take forever! You should gather all the info about what's important to consider before your purchase, and you'll be able to shop like a pro in a flash.
All you need to do to save precious time and effort is read our article and our buying guide prior to your shopping journey, and you're golden!