Has your child started potty training? Do you find it challenging? Are you worried about it? These are just a few questions when your baby starts training, but we know you are freaked out. That is why we have come to your rescue.
We understand that training your child to go to the bathroom is a slow process; hence, requires patience from your end. Considering that it is a stressful situation, we have solved the biggest puzzle of your life; we have extracted the best potty training seat for your child.
We have dug deep on the subject and extracted the best 8 toilet trainer seats for your child. But first, let us have some discussion about potty training toilets. There are two types of potty training seats available on the market: the self-contained seats and the regular seats.
A self-contained seat sits on the floor, and it is useful at the beginning of the toilet-training phase. For this blog post and to guide you on the best toilet chairs, our expert trainers tested several toilet seats and found that the BabyBjörn Toilet Training Seat (available at BabyBjörn for $34.99) is the best among others available on the market.
To be honest, it is safe, secure, and strong, features a built-in splash guard, and has an appealing design.
Invalid table id.
To save you from any hassle, we have tested every seat individually for three days, evaluating the level of comfort, stability, aesthetics, and usage.
The Best Potty Training Seats
The wait is over! Here are 8 best potty seats we put to test. Also, we have ranked in order to make your decisions easier.
1. BabyBjörn Toilet Training Seat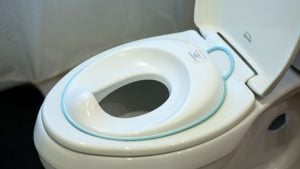 Like all BabyBjörn products, the BabyBjörn Toilet Training Seat is visually aesthetic and well-constructed. Unlike other training seats, the BabyBjörn toilet seat is adjustable. To make this toilet seat secure for your baby, the seat features a little knob at the back. Simply put the BabyBjörn onto the seat and tighten the knob. And this design provides the seat more comfort and stability.
The best part is that the BabyBjörn Toilet Training Seat features a minimalistic design – no vivid hues or weird patterns. The seat is of cream tone and features turquoise piping around the edge (also available in grey or black piping).
As far as its profile is concerned, this toilet seat is small and features a slight curve at the edge. As for convenience is concerned, the seat can be easily taken off and stored anywhere. Also, you can hang on the wall with the help of the given handle.
2. Summer Infant 2-in-1 Toilet Trainer (Round)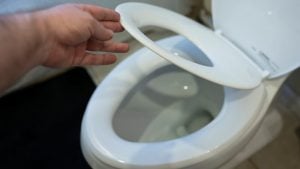 The Summer Infant 2-in-1 potty trainer is simple to use and easy to clean. Storage is not a challenge because this toilet trainer remains attached to the toilet, just as you would screw down a regular toilet seat.
Like a regular toilet cover, the Summer Infant 2-in-1 Toilet Trainer (Round) seat's lid flips up, opening to a child-size seat, and it further opens up when an adult wants to make use of it. And guess what? This seat carries a price tag of just $15.69. A good deal though.
Moreover, the construction of the Summer Infant 2-in-1 Toilet Trainer (Round) is of lightweight plastic, which means it is not strong enough for adult use.
3. Jool Baby Products Potty Training Seat for Boys and Girls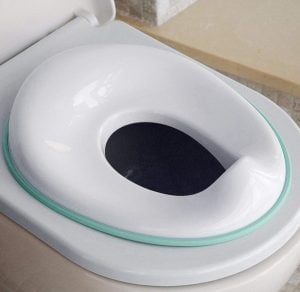 The Jool Baby Products Potty Training Seat for Boys and Girls is just like the BabyBjörn. It is aesthetically pleasing and is ideal for both grown-ups and kids.
One thing to note is that the Jool Baby Products Potty Training Seat for Boys and Girls seat is not adjustable; however, it is strong when positioned on the adult toilet seat because of its design and construction, as it features a non-slip grip material.
As far as its comfort level is concerned, the Jool Baby Products Potty Training Seat for Boys and Girls has a contoured shape, which makes it comfortable for kids. Also, it has easy storage, as it features an adhesive hook that you could attach to your bathroom wall for easy hanging whenever you want.
4. Prince Lionheart weePOD Toilet Trainer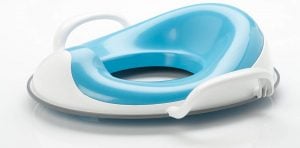 To be honest, this seat features attractive handles. The Prince Lionheart weePOD Toilet Trainer is actually a blessing for those parents who are new to training their child about potty seats. But let us tell you one thing that these handles are not for any sort of assistance – they are designed to add a bit of stability.
The seat is, overall, strong and robust, and your kid will definitely like to hold onto something. But the whole package becomes a bit too bulky with the handles. So if you have a tiny bathroom, you might not like it.
5. Fisher-Price Perfect Fit Potty Ring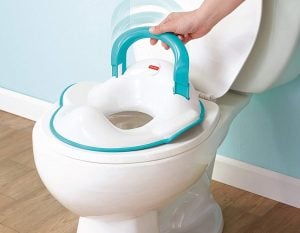 We tested the Fisher-Price Perfect Fit Potty Ring and thought that it is in the same position as Prince Lionheart.
Apart from the BabyBjörn, the Fisher-Price is the only adjustable seat we tested out. The back of the seat features a U-shaped handle that is inserted after the seat is positioned on the toilet. Another great point is that the featured handle doubles to make a makeshift backrest.
The seat also comes with a hook that you can attach to the back of the toilet, but the seat is bulky enough to make storage difficult. So, if you have a tiny bathroom, you should look for other options.
6. Munchkin Grip Potty Seat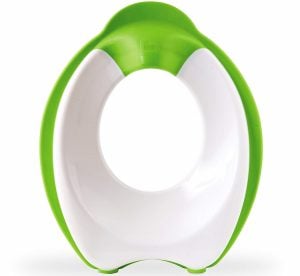 The Munchkin Grip Potty Seat is stable after it is placed on the toilet seat, but as far as its size and reach of splash guard is concerned, we found them a bit cumbersome. During testing, our tester's child had some problems finding a good and comfortable position. Also, we didn't like this seat with bright green color appealing.
Besides, one great thing about this the Munchkin Grip Potty Seat is that it is narrow and has the capacity to stand on its side. This is a bonus, especially when the seat is not in use.
7. Ginsey Soft Potty Seat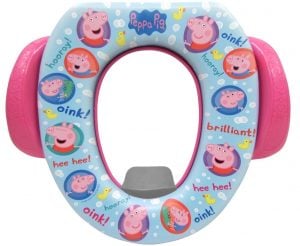 This Ginsey Soft Potty Seat lacks in providing comfort and stability. The seat features little to no padding, which is flat and has no contouring. Though this seat feature handles, they don't make the seat secure and safe.
Apart from that, our little tester liked the seat a lot. Why? Because the Ginsey Soft Potty Seat features a printed cartoon character. So if your little munchkin likes to have everything with cartoon characters on it, this one may become their favorite seat.
We understand how easy it is to make your kid do something when they are happy. That's why we have included this seat on the list.
8. Primo Freedom Trainer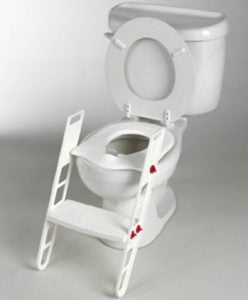 The idea of the Primo Freedom Trainer is an innovative and modern product that is great. Giving your child the freedom to climb up a ladder seems a great idea, but this seat is thin, unstable and unsafe. Also, the seat must be placed right on the toilet bowl, which makes it dangerous.
However, our little tester loved using the product. The seat features outlines of a kid's feet, and it becomes a sort of game for kids to place their feet over the printed ones.
Our Testing Procedure
Georgia Kral, a journalist by profession, has written on many topics, from food and restaurant to parenting tips and education. She lives in Brooklyn with her husband and two kids. When she was expecting her second baby, she and her husband decided to potty-train their daughter right from the start.
Their daughter was just a few months when they started her initial training, and eight months later, she was trained enough to spend her days without diapers.
How We Conducted Tests?
We tested each toilet training seat for 3 consecutive days, which is about 10-15 uses per seat each day. We had a set of questions, and each toilet seat was tested on the same basis. The questions were:
How intuitive the seat is?
Is the seat adjustable?
Is comfortable enough?
Is it stable?
Is it convenient to store?
Is it visually aesthetic?
During toilet seat testing, we just didn't take parents' perceptions into consideration but also what a child thought about the toilet seat was important as well. We noted how both of them felt after every use.
Factors to Consider When Buying a Toilet Training Seat
Considering your child's personality, development and comfort level with potty training is important before opting for toilet seats or potty chairs. We can only provide suggestions based on our testing outcomes; however, what your child may need could be different. It is possible that your baby needs to handle grips or a seat with vibrant colors and cartoons.
As we discussed earlier, there are two types of potty seats. Let us tell you that self-contained potty chairs are entirely different from the adult seat. Stand-alone chairs are ideal for the initial potty-training phase.
The second type is the potty seat that only sits on your toilet. Also, some children may take months to adapt to the second phase of training while some may do it in a few months. All tested training seats are for a longer period of usage – they are useful for children until they are big enough to use an adult seat.
Now comes the cleaning part; many parents worry about cleaning the seats. When we talk about potty seats, keep in mind that potty training seats are gender-specified. Some seats feature taller or bigger front piece – splash guard.
This is specially designed for boys to assist them in avoiding spraying outside. However, keep in mind that toilet seats with a larger splash guard need a bit more cleaning. And yes, don't worry, they are easy to clean. Another thing to keep in mind is that seats that feature ladder or handles need attention.
Another important factor to consider is cost. Generally, seats we tried to fall in the same price range; however, the BabyBjörn is the most expensive. And the Summer Infant 2-in-1 trainer is ideal for long-term use.
Nowadays, toilets are oval, and most potty training seats are the same shape. However, generally, these seats also fit in the round-style toilets. You just have to position on the seat and make an adjustment if needed and possible.
We have an oval toilet and we found no issues of the fitting. Also, you don't have to toss and turn a toolbox except for a flat-head screwdriver in order to remove your current toilet seat before placing the Summer Infant 2-in-1.
Other Potty Seats We Tested
If you want more information on how to approach potty training, the book "Once Upon a Potty" by Alona Frankel. This is ideal for both male and female kids.