What's the biggest concern of mothers when it comes to baby socks? No matter, how much effort they put, these socks are going to lost somewhere. These small pieces of clothes disappear in the smallest available space. Sometimes, we keep looking for baby socks everywhere while they are present right in front of us. Did you face a similar scenario ever?
It is the story of almost every other mother. So, the best possible solution is to buy socks in bulk. This trick will make sure that you have socks no matter how many of them you lose. You can also purchase the socks with the same patterns and designs. It will even save you from the struggle of finding the matching pair.
Well, this was the basic tip to never run out of this basic baby accessory. What socks type should you buy for your baby or a toddler? This is something that needs your precious time. Kids at different stages need various considerations for the selection of socks. If you need to buy socks for a newborn or an infant, it's better to go for soft cotton socks.
Invalid table id.
It is because they will give maximum comfort and warmth to the baby. Also, they will be capable of providing enough elasticity to keep the socks stay on their feet. 
Well, the case with the toddler would be different. As most of the kids learn walking at this stage, you should buy socks that can offer some grip. It will assist the baby to maintain their balance as they will be learning to walk around.
What are the socks requirements for an older child? Well, they need a pair that fit comfortably in their shoes without making them uneasy in any way.
Top Picks and Why – Detailed Review
So basically, you need to look at the length, thickness, and material when you shop for the baby socks.
1. Zutano Unisex Soft Newborn Fleece Bootie Socks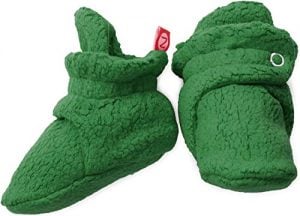 This Zutano Soft Fleece Bootie has certain traits that you wouldn't be able to find in average socks. Here are a few of its remarkable features:
MaterialAdjustabilityEasy maintenanceSafe and Healthy
These Zutano baby socks are made up of soft fleece. It feels soft and comfy on little feet. The underlining of these baby socks contains soft fleece as its manufacturing material.
It helps to enhance the warmth and to give soothing effects to the delicate feet. You must be wondering here, how does it prevent overheating? It has a cotton lining for this purpose.
It gives comfort while maintaining the temperature at the optimal level.
Do you find it difficult to look for the socks that fit perfectly? The two-snap secure closure of these baby socks can prevent you from this trouble. Because of this closure, you can choose the perfect fit for your baby's feet.
Moreover, it also prevents socks from slipping down. Rather, it assists in shaping the contour of the feet.
These socks are made up of high-quality material. They are very easy to clean as well. You can put it in a washing machine on a slow cycle along with air drying.
The manufacturers of these baby socks had a special concern for babies' health and safety. This is the reason; the fleece material of these booties has been tested extensively.
It has cleared more than a thousand chemicals test. It means the fleece material is free from BPA, lead, latex, and other synthetic materials.
Well, this whole process just doesn't end here. These socks were pre-heated during the packaging process. So that all socks remain free of bacteria and dust.
Would you still doubt the quality of these baby socks? Well, all these precautionary measures make it one of the best baby socks.
However, these booties don't possess anti-skid marks on their soles or bottom. These marks are helpful for toddlers who are learning to walk. But, do you actually think these booties need marks when they are going to be worn by a baby?
2. Trumpette Baby Girl Pack of 6 Socks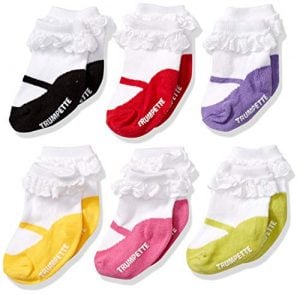 Are you looking for some adorable baby girls' socks? This Trumpette Baby Girl Pack could be the best option for you.
Here are few of its distinguishing attributes:
Comfortable ManufacturingEase-of-useBetter TractionVersatility and Adorable Design
These socks are made up of using such material to make them comfy for babies in all possible ways. So, it is manufactured using 100% fair-trade cotton.
What's more? This cotton is imported from India and Bangladesh. Well, these socks contain the blending of some other materials to acquire certain benefits.
So, it has 80% cotton, 17% Nylon, and 3% Spandex. All these materials make these baby socks comfortable, moisture absorbent, and stretchable to be fit perfectly on little feet.
What's the purpose of adding Nylon and Spandex? They assist in maintaining the shape of socks even after prolonged use. They also make it capable to endure numerous washing cycles.
In order to enhance the convenience, these socks come with sewn elastic. It is present at the top of the socks. Thus, it becomes easier to wear.
These socks are also going to help your doll to learn walking. This product comes with rubber grips at the sole. They give required traction to maintain the balance of the toddler as she walks.
The socks come with contemporary design. It feels like wearing some fairy shoes. Moreover, parents can select from the range of various beautiful colors.
On purchasing these socks, you will also get a beautiful gift box that you can use for storage purposes later. However, what about gifting these socks pair to any lovely fairy around you?
3. Jefferies Pack of 6 Cotton and Nylon Socks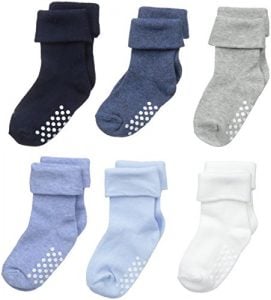 If you are looking for comfortable socks, this Jefferies Cotton and Nylon Socks could be the best option. What makes it comfortable? Here are the details:
MaterialMoisture AbsorbentColor VarietyClassic design
These Jefferies socks are made using cotton along with polyester material. The reason behind adding polyester is to make them suitable for cold weather. So, it has 80% cotton and 17% polyester.
The two materials not only give comfortable feel but also provide warmth.
What kind of socks do you prefer for your baby after bath time? Well, these Jefferies socks could be the best choice as the after bath socks. It is because it has the ability to absorb sweat and moisture really well.
Doesn't it feels great to have socks that are comfortable, warm, and absorbs moisture too? Jefferies is providing all these benefits in a single pack.
You don't need to worry about colors when you are purchasing these baby socks. This 6 socks pack comes in black, white, gray, navy, dark blue, and light blue colors.
Aren't these colors specific for boys? Yes, these Jefferies socks come in a girls' pack too. It would have one white socks pair and 5 socks pair of varying pink shades.
The top of these socks contains turn cuffs. It looks adorable and unique in its own way. In order to provide better traction to toddlers, these socks have non-skid rubber soles. It helps in maintaining the balance while the little one starts walking.
What's more? You can wash them in a machine and they are drier safe too. So, would you delay buying these comfortable and super warm socks pack?
4. GelWhu Pack of 6 Knee High Cotton Socks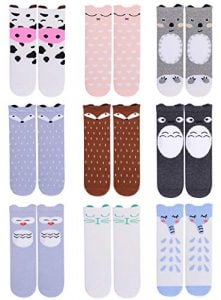 Are you looking for colorful knee-high socks? These GelWhu Cotton Socks could be the best choice for you. Here are few of its remarkable features:
Adorable DesignMaterialVariety
Do you like lovely cartoon characters on your kids' clothing? Well, most mothers adore this feature.
GelWhu understands these mothers' choices. This is the reason they have made this socks pack with beautiful cartoon characters print.
Each pair has a different print. It includes an owl, fox, bear, cat, and a cow. Another good thing about these socks is their knee-high length.
It would protect your baby's legs from any insect bite. Also, mothers are usually frustrated with kids who don't like to wear socks and take them down immediately. These knee-high socks aren't very easy to remove.
The material of any cloth is what decides the quality and feel of that piece. These baby socks are made using cotton and spandex. So, it would feel soft and comfortable on little feet.
Moreover, they would provide enough warmth to prevent babies from getting cold. However, their breathability will ensure that babies can wear them in warmer months. These socks will allow air to pass through and prevent sweating or overheating.
Do you find it hard to get the size of a perfect sock for your baby? Sometimes, it happens when you like to print and color, the required size isn't available.
Luckily, this wouldn't be a case if you would purchase GelWhu baby socks. It is because they are available in four different sizes and two color schemes.
Isn't it enough range to choose your favorite pair from?
5. Carter's Baby Soft Cotton and Fleece Socks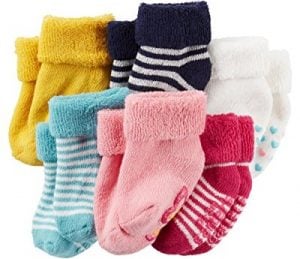 If you are looking for some really comfortable and warm socks, this Carter's socks could be the best pair for your baby.
Let's have a look at its remarkable features:
Convenient DesignManufacturing Stuff
Carter has added certain features in its baby socks to make them super comfortable for your baby. Have you experienced it when your baby moves a lot and socks get removed anywhere?
The manufacturers of these socks understand these problems. Therefore, they have made these socks with specialized cuffs. They keep the socks on their place and prevent them from slipping.
What's more? It has a deep heel pocket design. It not only helps in making sock to fit snuggly but also keeps them in their place. So, no matter how active your toddler is, these socks would stay on their feet all the time.
Wouldn't it be so hard seeing your baby falling repeatedly because of the socks? So, in order to provide better traction, these baby socks come with anti-skid marks on the bottom. It will prevent your toddler from losing the balance.
Carter's socks are made up of cotton and fleece. The combined properties of both these materials wouldn't only make these socks comfortable but warm too.
These materials also make these socks the best choice for sensitive and tender skin. Moreover, these pairs also have floral or animals printed on the bottom.
It is very simple to clean these socks too. They are safe for washing machines. You can put them in a machine with a delicate cycle. However, the baby detergent you would be using should be sensitive and scent-free.
So, if you are looking for adjustability, comfort, perfect-fitting, and anti-slippery traits, then Carter could be your thing.
6. YohooLYO Soft Cotton Baby Boy Socks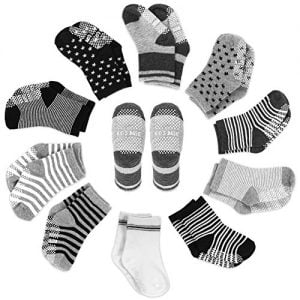 Do you run out of your boy's socks frequently? This YohooLYO Soft Cotton Baby Socks can give you peace of mind for months. Here are few of its distinguishing features:
Appealing DesignMaterialAdequate traction
These socks pairs are particularly suitable for boys. It has a beautiful knit black and grey design. The striking dots and stripes pattern can give a classic look to your little man's feet.
These YohooLYO socks are made up of cotton and Nylon material. The presence of Nylon material gives it remarkable stretching.  
It also has an elastic band on the ankle part. It helps to prevent socks from getting slipped. Another good thing about its material is its breathability.
It means these socks allow adequate airflow to prevent sweating. This trait particularly proves helpful in hot summer days. 
This set contains 10 pairs of baby boys' socks. The bottom and heels of the socks contain antiskid markings. It will prevent your baby from falling as it will offer enough resistance to their feet. 
So, if your toddler is learning to walk, these socks can assist in gaining confidence and preventing injuries.
This set also comes with a size chart. It will help parents to choose the right size for their baby's feet.
7. Gerber Premium Newborn Cotton Unisex Socks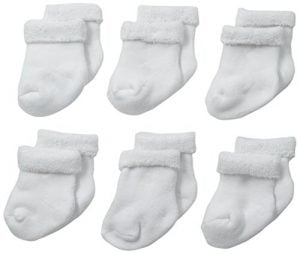 Do you love little angels all covered in white clothes? If yes, this Gerber Premium Newborn Cotton Socks would be the best option for you.
Let's have a look at its remarkable features:
Manufacturing MaterialMaintenance
These socks are made up of cotton and Nylon. The concentration of both materials is 75% cotton and 16% Nylon.
The cotton stuff performs its duty by providing enough softness and comfortable feel. However, the Nylon stuff will add stretchability to these pairs. What would be the benefit?
It would keep these socks stay on baby's feet. It is important because infants tend to move their legs and socks get removed if not fitted properly.
Moreover, the combination of these materials would keep the feet cool while preventing overheating. So, an adequately warm sock along with enough stretchability and perfect fit is all you may ask from a baby sock.
The Gerber further made these socks appropriate for babies by adding an elastic band. This soft band is present in the ankle part. However, you can even roll it up in a cuff style if required. this baby socks set contains 6 pairs of white-colored socks.
Its color makes it a perfect choice for newborns regardless of their gender.
What troubles you when it comes to white-colored baby accessories? Of course, it is their cleanliness as light colors get stained fast.
But, luckily, this is not going to be a problem with these socks. This product is completely safe to be washed in a machine. Also, it maintains its color and grace even after numerous wash cycles.
You can even bleach them to maintain their perfect white color. Moreover, its soft elastic has the capability to retain its suppleness. It won't shrink or get loose over time.
Though these socks are machine washable, you shouldn't put them in a drier. It's better to air dry them.
So, for mothers who love white color, these Gerber Newborn Socks could be the best option.
The baby socks can be helpful in these cases. Do you feel confused if the baby clothes are enough according to the weather?
In order to answer this question, the pediatricians suggest putting one extra layer to a baby in which you feel comfortable. It means if you feel okay with two layers of clothes, the baby should have three layers.
The baby socks can be really helpful in the above-mentioned scenarios. Otherwise, experts say it is okay to leave the child barefoot as long as possible. It will help in the development of fine motor skills.
However, it is also crucial to not put very tight socks on the baby. It can disrupt their normal blood circulation process.
It may also cause sock-line hyperpigmentation. This condition appears in the result of low blood circulation because of the tight socks. It can create a permanent mark on the baby's sensitive skin.
Moreover, it may also affect the optimal foot development of the baby. Last but not least, the material of the socks should be natural and pure.
You can go for cotton and fleece. As you can see from the above-provided reviews, most of the socks contain fleece and cotton materials. Such materials protect babies from the number of possible health issues.  
Final Thoughts
Socks are an important part of a baby's dressing. It is not crucial to put babies' socks all the time. However, it becomes mandatory in a few situations that mothers need to evaluate.
Parents usually feel confused while purchasing accessories for their babies. We understand their concerns. Therefore, in this piece, we have reviewed 7 best baby socks in 2023. If you want to know about Baby Pajamas of different varieties here we have all the information.
We have also highlighted the basic features of socks that you should consider while buying them. We hope these reviews will help you while choosing the perfect socks pair for your baby or a toddler.