The Ankovo Infrared thermometer delivers temperature readings in just eight seconds, and users can view a maximum of 20 previous readings if monitoring the temperature of a child.
Ankovo Digital Thermometer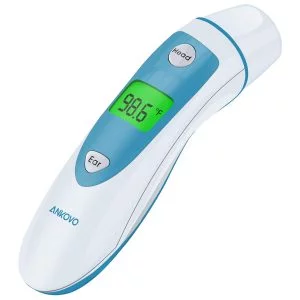 The LCD flicker alarm makes Ankovo Digital Thermometer even more efficient as it alerts the user using seven short, rapid rings when the temperature exceeds 37.5 degrees Celsius. Compared to other thermometers that use mercury, the Ankovo is entirely safe as the glass does not break.
It applies to all age groups and those who are suffering from a fever. Notes: How to avoid the inaccuracy: Please make sure that there is no dirt on the temperature sensor. Please make sure that there is no water or any shade on the forehead.
Please clean the ear canal first when you measuring the ear temperature. Therefore, it is NORMAL to get the variations between Oral (0.5 to 1.0°F), Forehead (0.3 to 0.5°F) and Ear measurements. This is NOT due to the inaccuracy of the thermometer.
Warnings: Please keep this Dual Mode infrared thermometer out of Children's reach. Medical assistance can't be replaced by the use of an infrared Dual mode infrared thermometer. The Dual mode infrared thermometer is not waterproof! Keep it away from water.
Features
Product dimensions: 15.7 x 4.8 x 4.6 cm.
Item weight: 159 g.
Shipping weight: 159 Grams.
Dual-mode.
Safe and Hygienic.
Reliable and accurate.
Quick response.