The greatest fear for the parents in winter or during nights is that their babies don't get suffocated because of the blankets we use to swaddle them. Babies move and turn around in their sleep and they don't realize if the blanket has covered them all over.
Due to consistent breathing inside the wool of the blanket, the oxygen level drops, there are chances they might get suffocated and may result in causing the death of infants/babies.
SIDS & SUID
SIDS stands for Sudden Infant Death Syndrome and SUID stands for Sudden Unexpected Infant Death, which occurs when an infant/baby dies without any reason in their sleep. The major reason for deaths includes suffocation within the sleeping environment for e.g. Baby's bed, bed-sharing of other siblings, etc.
Invalid table id.
Top Picks and Why Best Swaddle Blankets For Babies Review
It also includes other deaths occurring for unexpected reasons. 
1. Love To Dream Swaddle UP Original 1.0 TOG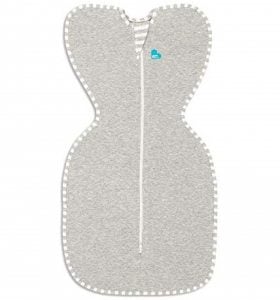 This love to dream swaddle up is made from 97% of breathable cotton material which makes it one of the top and best swaddle blankets for summers. Due to the fact that this blanket is a thin swaddle which definitely allows the baby to be swaddled easily without any hassle and getting overheated during nights. For an updated price check, visit amazon.
2. SwaddleMe Original Swaddle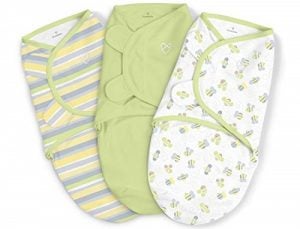 SwaddleMe Original Swaddle is the best type of swaddle blankets that are available, it is best to use for babies born prematurely. The SwaddleMe swaddle blankets grow along with your baby as it has three size options for the small newborn baby's there is a pod size stage, for baby's up to 14 pounds there is an original size stage, and the third size stage is called the Love Sack it is best for baby's weighing up to 20 pounds. For updated price check, amazon.
Located in Rhode Island, SwaddleMe is manufactured by Summer Infant Inc. Summer Infant is popular in manufacturing safe, easy to use and quality material products for babies and caregivers at the same time.
Their product range includes various swaddling blankets and playpens. Aim of Summer Infant is to give the best experience to your baby and to parents in the early years. Log on to Amazon to check the price.
3. HALO SleepSack 100% Cotton Swaddle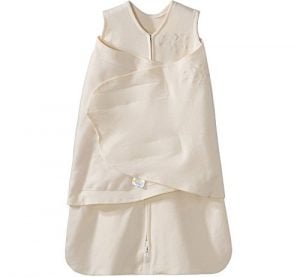 The Halo sleepsack is the best type of swaddling blankets available from the different types of blankets especially designed for newborns. There are three adjustable swaddling blankets options available to suit your baby's sleeping style.
To give your newborns a safe feeling the baby can be swaddled while being in parent's arms. To help baby soothing herself in sleep there is an option of hands-to-face, and you can even keep both arms or one arm out as your newborn grows and transition from sleeping without swaddling. For the updated price of the Halo sleepsack, cotton swaddling blankets check amazon.
The Halo Company is best known for products that ensure that the baby is sleeping safely, this is because the person who found this company lost his baby to SIDs.Therefore after much research and checking reviews from parents and caregivers the safest adjustable cotton swaddling sleeping blankets were designed by Halo Company. To keep baby safe while sleeping from SIDs Halo designed wearable size sleeping blankets as well.
4. Safe Dreams by HaloMicro-Fleece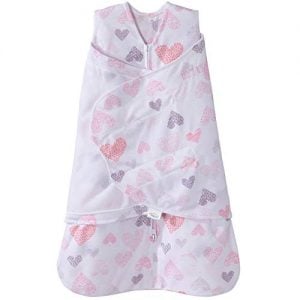 Designed by Halo company, they have kept their entire focus on the safety of babies. As it is a reality that baby's safety comes first and due to the rise in deaths from suffocation and other reasons, the company has taken this point very seriously.
It is one of the best types of swaddles on the list as it is a wearable blanket that comes with TOG 3. The size of the HaloMicroFleece swaddle is perfect as it is a wearable swaddle it can be used in swaddling the baby or as a safety blanket cover that ensures to keep the babies warm during nights. For an updated price check, visit amazon.
The Safe Dreams by HaloMicro-Fleece is made from fleece material with a TOG level of 3. TOG level 3 is an indicator that indicates the swaddle will keep the baby warm in the coldest nights. TOG is a measuring unit that is a textile trade jargon and it is used to measure the intensity of insulation. 
*Note: Parents' safety precaution is a must before using this fleece material as each layer gives a certain kind of insulation to the toddlers/ babies, so avoid using unnecessary layers for overheating purposes.
5. Aden + Anais Silky Soft Swaddle Baby Blanket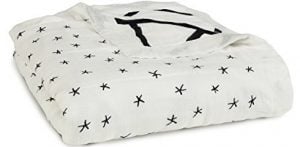 The dimensions Aden + Anais Silky Soft swaddle is impressive enough for adjusting babies from newborn to ages up. It's 47 by a 47-inch sized blanket that allows babies to be swaddled with much ease and comfort. For an updated price check, visit amazon.
Due to the adjustable and foldable property of the muslin cotton blanket helps to swaddle your baby from newborn and ages up in a cozy & comfortable way. The adjustments and the cotton material allow your baby to have a good night's sleep for several nights. These swaddle blankets can be used for different types of purposes; it can be used as a blanket, as a nursing size cover, as a baby fastening cover and much more. 
This Aden + Anais came into existence when an Australian born mom Raegan Moya-Jones could not succeed in finding the right type of cotton material muslin blankets in the USA. She emerged as introducing this type of muslin swaddling to the USA in 2006, fortunately, this became a hit. It is now of the best swaddle blankets sold in 65 countries worldwide, due to its versatility, comfort and safety features of this muslin swaddling blanket. 
6. Ziggy Baby Muslin Swaddle Blankets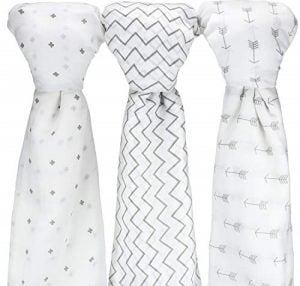 The Ziggy baby muslin swaddle blankets are made from 100% cotton muslin material, the cotton material of the blankets is breathable soft and comfortable to take good care of your babies. The sizes of the muslin swaddle blankets are actually large enough to be used for different types of purposes in keeping the baby warm and at the same time taking care of them.
Its big size allows the swaddling baby to keep their movements natural and normal, without giving them a stretchy and discomfort feeling. 
It is a New York-based company with a mission to provide quality baby products at competitive and affordable prices. Based in New York, the Ziggy Baby mission is to provide high-quality baby products at affordable and competitive prices. It is a must to mention that it makes parents' life much easier and satisfied. For the latest price, check amazon.
7. SwaddleDesigns Ultimate Swaddle Blanket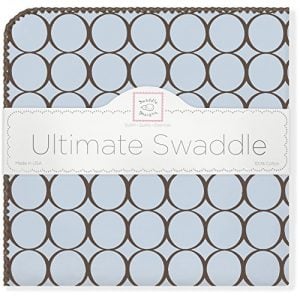 When it comes to winters there is nothing as comfortable as Ultimate swaddle blankets. Specifically designed for winters to give babies extra comfort and warmth they require. It is made in the US from premium quality lightweight and breathable cotton flannel.
The cotton fabric is designed in a way to keep the babies from getting overheated. Comfort, cozy swaddling is what you can expect from Ultimate Swaddle Blanket. For the latest price check, you can visit Amazon.
It was founded in 2002 by Lynette Damir a medical background professional. She kept in mind while designing the warmth a baby gets in the womb of her mother. In other words, it's more close to reality and the real nature of mothers. Parents should be satisfied after using this ultimate blanket swaddle.
The American Academy of Pediatrics offers the following tips to reduce the risk of SIDS:
Final Words
When it comes to buying baby's stuff there are so many products and brands with a diverse product line available in the market, that without a well thought research & reiki you will end up buying stuff that is either of no use or they will be discarded soon because of your consistent growing baby.
Also if you choose to buy online, you need to be more cautious as anything that is not physically present in front of your eyes can land you in a very difficult position.
It is recommended to go for the trusted sites like Amazon, due to its reliability and trust by the clients, it is a site that can ensure you are not in the wrong place. The most important features amazon provides you are the necessary photos of the product with descriptions.
The photos do not only display the presentation of the product you are buying but also you can place your mouse on the photo and get a zoomed view to ensure whatever you are looking in the product is very clear and visible to the human eye, especially when buying on the internet. 
Coming back to the point; what are the factors to keep in mind while going for the best swaddle blankets for your babies:
Swaddle Blanket must be safe: The safety feature should be your priority when buying a swaddle blanket as if you ignore such a factor you are actually posing a risk to your infant/ toddler, as per SUID and SIDS.
Weather Factor: Make sure for which weather you are looking a swaddle blanket for, if it is for summers there are different types of brands available to cater to your needs. Due to their airy and breathable cotton material, Baby washcloths will keep your baby warm and at the same time will not let them overheat at night. If they should be meant for winters only then go for the ones which are specifically meant for winters, as they have the warm factor high due to various layers of clothing in it.
Check for the size before buying, if you don't want the swaddle blanket to go short in a very quick time then prefer going for the lengthy ones. It will be sufficient for you to use it for infants growing to toddler age.
Especially look for the ones comfortable and easily manageable, don't put your life on a swaddle that requires so much learning and it is complex.
We advise parents to look at what they exactly need for their little one, also keep the price factor in mind that will help you in taking the right decision for choosing the best swaddle blanket for your babies & toddlers.