It is very difficult to handle a kid sick with breathing problems. In this tricky situation, it's almost impossible to spare a moment to search for the best nebulizer for kids. At the same time, you can't afford to compromise on the quality, when it's come to your child's health.
You would definitely need the Best treatments for your ailing child that's why you also need to consider baby thermometer. This is the reason; we have completed this research part ourselves. Our purpose is to provide you the comfort of not making these critical choices for your child haphazardly.
We want you to make a well-versed decision that suits your kid's requirements and conditions.
Invalid table id.
Before we go on, it's better to first discuss what nebulizers are and how do they function. It will assist you in further knowing what features are crucial for the best nebulizer.
If you are in a hurry and can't dig into further details, we have listed the best nebulizers for kids here. Just give it a glance, and choose the one that suits you in the best way. However, we will suggest bookmarking this page, so you don't miss any helpful information.
What is a Nebulizer?
A nebulizer device helps in treating breathing problems by converting medications from a liquid state into a fine spray form. It thus aids in inhaling these drugs conveniently.
 It can be powered either by electricity or a battery. In order to achieve its results, it makes use of compressed oxygen.
We can treat different illnesses using nebulized medications. WebMD says it includes allergies, COPD, asthma, chronic bronchitis, Cystic Fibrosis, other respiratory diseases, and infections.
How does a Nebulizer works?
This device makes use of compressed oxygen to convert medicine from its liquid state to a mist form. It is then inhaled into the lungs easily with the help of a mask or a mouthpiece. This choice of cover, however, depends on the age of your child. 
Once these inhaled medications reach the lungs, they are rapidly absorbed in the exact place where treatment was required. This is the reason, nebulized medications are considered as the best treatments for various respiratory ailments.
The medicine, however, may include bronchodilators, steroids, antibiotics, or other anti-inflammatory drugs. The nebulizer therapy is sometimes also used as an alternative to metered-dose inhalers (MDIs). These inhalers could be hard to use accurately for children. A nebulizer provides a convenient solution.
There is a wide variety of nebulizers available out there that are suitable for kids. You can see a few pediatric nebulizers in this guide too. They come in amusing size and shape to make the treatment process entertaining instead of causing nervousness.
It is very crucial as the main purpose of nebulized medications is to comply with the child. If it isn't the case, the kid might become cranky refusing to take medications at all. Do you think it would be possible to get the maximum benefit of this treatment then?
It is important to remember that you cannot use all of your child's medications with this compressor. It is, therefore, crucial to discuss with the doctor before you make any decision.
7 Best Nebulizers for kids
There are varieties of features in a nebulizer that ask your consideration. It includes the design too, especially when you are buying it for your child.
In the below section, we have provided a detailed review of the few best nebulizers for kids. It will help you in knowing more about these crucial attributes.
1. Wave Medical WMP101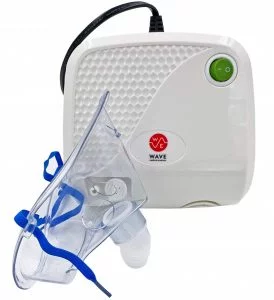 Key Features
Manufactured in the USA
Offers 3 years warranty
Weighs 3.5 pounds
Comes with a cool mist vaporizer system
Operates at 120VAC/60 Hz Electric power
Contains Sound Dampening Technology
Comes with travel bag, full mask kit, and five filters
Compact size wit PortabilityTransportabilityEffective WorkingAffordable Price
This nebulizer is one of the best options for those looking for a compact and versatile compressor. We are not saying it is very small to be held by hand. But, it is short enough to carry it anywhere with you conveniently.
It gives you the freedom to do the breathing treatments of your kid anywhere they want. It doesn't operate on battery but you can even use it in the car with the help of an adapter.
This trait brings portability in this machine that is literally a must-have feature these days. So, you can enjoy a trip to anywhere without worrying about your child missing the medications.
This one of the best nebulizers for kid also comes with a handy carrying bag. It makes it even more transportable. Also, its weight is less than 4 pounds. You can adjust it in your backpack without putting excessive efforts.
As this device has a compressor of a tabletop model, its performance is remarkable too. Its large compressor is capable of converting medications into an aerosol form quickly as compared to other handheld nebulizers.
It also has the potential to offer some heavy duty functioning in a single day. It means you can trust this device if a doctor has prescribed nebulizing to your kid multiple times a day.
Besides vaporizer, this item also comes with a complete kit. It includes a reservoir cup, angled mouthpiece, air tubing, and separate masks for children and adults.
It means this WMP101 has a complete kit to assist your nebulizing procedure. It is equally useful for kids as well as adults.
Another worth mentioning trait of this nebulizer is its price. It is absolutely affordable. The manufacturers give a warranty of three years. This USA-made compressor allows you to take the maximum benefit of nebulizing while keeping your budget in control.
2. Cool Mist Inhaler – Best Adorable looking Nebulizer for Children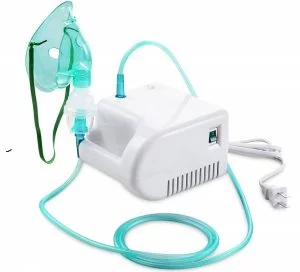 Key features
Operates at 120V/60Hz electric power supply
The Vaporizor system gives off a cool mist
Sound level is 60dBA
Comes with five air filters and complete inhaler kit
Charming Appearance
Ease of Use
Allows Free Movement
Powerful Compressor
Durability
This one of the best cool mist nebulizers is matchless with respect to its design. This unique compressor has an absolutely child-friendly design. The main body of this nebulizer is made up of a cartoon elephant.
It is blue in color and looks gracious. You might even confuse it with some kid's toy. It seems like manufacturers of this cool nebulizer know the anxiety level of a sick kid going through various treatments.
Being a parent you must feel bad about your kid having fear of inhaling medications. It is such a helpless situation where you have to make your child face this frightening treatment repeatedly.
This Cool Mist Inhaler is a solution to these anxiety problems. The comforting appearance of this benevolent nebulizer can make your child forget about their illness. They would rather use it happily while playing with their other toys.
Pleasant design isn't everything that this one of the best nebulizers offers. It gives ease of use as well. With a one-button functioning, you can operate it without facing any difficulty. Even children can operate it on their own if you teach them properly.
Another significant trait of this elephant nebulizer is its long tubing. It helps in treating your child while they keep playing in their room. Wouldn't this feature assist you in nebulizing your kid any time of the day?
In order to make the inhaler procedure quickly, it comes with a strong compressor. It can convert the medication pretty soon to free your child as soon as possible.
Quiet Functioning
Normally, kids get scared of any machine that makes weird noises. This cool-mist nebulizer doesn't make loud noises. In this way, it aids in keeping your child calm and happy the whole time during their breathing treatment.
3. Cool Mist Inhaler Compressor System Machine – Best Nebulizer for infants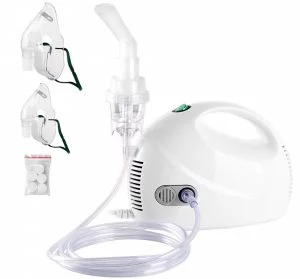 Key features
Comes with less than 60 dB sound level
Needs electric power of 120V/60Hz
Weighs 3.1 pounds
Size dimensions are 4.3" x 7.0" x 7.5"
Complete quality warranty
Comes with air tube, cup, 5 air spongs, mouthpiece, child and adult mask.
If convenience is everything you want in your life, this cool mist inhaler is the best nebulizer option. Its body is simple and comparatively small in size.
Easy to Carry AroundEffortless CleaningEase of UseAffordability
The best point is its well-located handle. It allows you to take this compressor anywhere you want. Though you would need to attach a power supply, sitting at the same point will not be a constraint. As its lever will let you carry it anywhere anytime easily.
It is very common for kids to get bored with anything or any place. In this situation, you can change their treatment area frequently every day.
In this way, you can keep them involved in their medications. This cool-mist nebulizer greatly helps in meeting this goal.
Another amazing trait of this nebulizer is its easy cleaning procedure. Usually, cleaning such health-related devices is enough to give you a headache.
Luckily, this isn't the case with this item. You can free it from harmful germs without going through any tiresome procedure.
It further gives you ease with its one-button operation. You can even make your older child operate it without asking for your help.
This compact nebulizer doesn't ask you a hefty amount for its remarkable features. It comes in a nominal price range.
4. FIGERM Cool Mist Inhaler Compressor – Best Affordable Nebulizer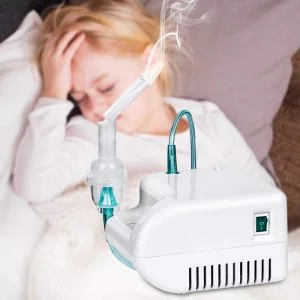 Key features
Uses 120V/60Hz electricity power supply
Comes with two years warranty
Weighs three pounds
Size dimensions 11.2"x 7.1" x 4.3"
Complete accessories kit available
Budget FriendlyExpedient top HandleQuick Medication Delivery
This nebulizer is one of the best nebulizers for those looking for some actually inexpensive option. With a limited budget, if you need to buy a nebulizer for your child, FIGERM is an appropriate decision.
This compressor has all features to accomplish your basic nebulizing requirements. You can even buy it when you need this device for a very short time period. It would be great to spend a small amount on an item that will be used for a trivial time period.
Also, if your insurance company doesn't cover nebulizers or their replacement, FIGERM cool mist inhaler is your solution.   
Besides price, there are few other significant attributes of this cool mist inhaler. The top of them is its handle at the top. It gives you an opportunity to take the machine at any part of the home with great ease.
Moreover, you can also carry this nebulizer to your day trip or a stay anywhere. Even while staying at home, you can shift it to different areas. It will help to keep your kid enjoy other activities while continuing their breathing treatments.
It will be great to take this nebulizer in a living room. It will let your child join you in family discussions while going through these tedious medications therapy.
Though this device comes in a plain design, it is enough to fulfill your child's necessities. Moreover, as its design is compact, storing and transferring it to other places would be a breeze.
This one of the best compressors will further make nebulizing easier for your kid by providing faster medication delivery. Wouldn't it be annoying for your children to spend a long time putting a mask on their face? This Cool Mist inhaler frees them from this trouble to make their sick days even more comfortable.
5. FreePower- Best Portable Nebulizer for Children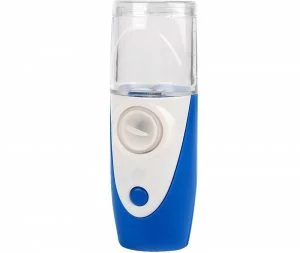 Key features
Contains MESH atomization technology
Operates on mAh800 battery
Needs power supply by USB charging
Comes with a container capacity of 25 ml
Possesses Auto-off feature (5 or 10 minutes)
Weighs 97 grams only
Size dimensions 4.6 x 15 inches
Effortlessly Portable Low Noise LevelAffordable Price
If your family is very busy or travels a lot, this nebulizer is going to be the best option for you. The manufacturers have made this compressor while keeping the portability feature as their top priority.
It comes in a very small-sized and slim design. It thus gives you the freedom to put it in a small available space. You can even put it in your hand carry, or your child can take it in their backpacks.
Besides its compact size, it operates on rechargeable batteries. It gives you an opportunity to continue breathing medications no matter wherever you are.
It means your kid can even take their medications in a park or a playground. You can also nebulize during charging.
This nebulizer also assists in saving your kid's precious time. This handheld device is lightweight and simple to be carried everywhere. Your child can keep performing their activities during the treatment.
In order to ensure maximum tranquility, this nebulizer doesn't produce a loud noise. It is almost quiet and instead of notifying its presence continuously, it works silently.
This compressor can be the best option if you are looking for some additional device to be taken outside. It is pocket-friendly too.
However, as it is an ultrasonic nebulizer, you should check your child's medication before using them. It is because few medicines aren't proposed to be used with these compressors.
Otherwise, it is amazing to be used along with non-portable large nebulizers. It can help you in a situation if your child needs to perform multiple treatments in a single day. This one of the best portable devices won't restrict them to stay inside the home all day long.
6. Yuwell HL 100A- Best Good Quality Portable Nebulizer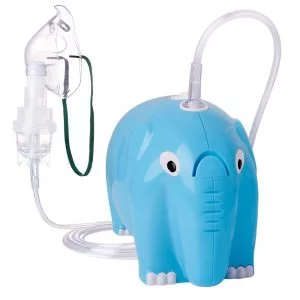 Key features
Produces a noise level of approximately 0 dB(A)
Weighs 85 grams only
Size dimensions 41.5 x 45 x 93 mm
Comes with CE, FDA, SG certification
Contains all accessories
VersatilityLightweightQuiet FunctioningHigh-quality ManufacturingEasy to use
If you are searching for a nebulizer that gives portability with versatility, Yuwell HL is the best option for you. The top-most benefit of this compressor is it gives breathing treatment while your child is moving around.
The second amazing trait is its capability to operate both on batteries and electricity power supply as well. It means when you can sit in a single place, you can attach it with the socket. It will let you save the batteries for future use.
Its body is light in weight, and the size is small too. You can carry it outside and perform your child breathing therapy at any place you want. These nebulizers are a great invention for kids who find these medications as a hurdle in their routine.
There is one more trait outstanding about this nebulizer. It is its noise level that is close to 0 dB (A). You can now continue your child treatment even at those places where creating noise is prohibited.
Furthermore, its quiet functioning will not disturb your child to perform their other routine activities.
This nebulizer has medical-grade quality and comes with various certifications. It includes CE, FDA, and SG.
Though this compressor is portable, it's jet compressor allows using medications that need this specific functioning only. It is a great versatile nebulizer that you can keep as an additional piece to take outside.
This machine is also very simple to use. The instructions are very simple as well. Your older children can even operate it safely after getting the proper training that is easy too.
Overall, this Yuwell Nebulizer is one of the best options for kids who need multiple therapies in a day. It won't restraint their daily routine. Also, it can be good to keep it as an additional machine for days when all you need is portability.
7. Portable Mesh Steam Inhaler – Best Battery Operated Nebulizer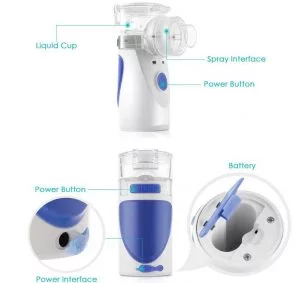 Key features
Weighs 119 grams
Size dimensions 37.6 x 37.6 x 97.7 mm
Gives dose in 10 minutes
Comes with one year warranty
Comes with an Automatic shut-off feature
A USB cable, mouthpiece, and mask available
Advanced Features with PortabilityAverage Price RangeCompact Body and Simple WorkingMESH Technology
If you are looking for some portable nebulizer with advanced features, this steam inhaler is the best option. It gives you the independence of using at any place you want.
Moreover, it frees you from the trouble of changing batteries over and over again.  Its batteries are rechargeable. Another best attribute of this machine is its jet-fueled compressor. You can use most of your child's breathing medications using this nebulizer.
The price range of this device is average. It isn't very high and not too low as well. It is expensive as compared to the FreePower nebulizer listed above. In the meantime, it asks fewer bucks if you evaluate it against Yuwell's Nebulizer reviewed above.
Its miniature body and lightweight gives you an opportunity to continue your child therapy at any location. You can even perform it while they are on their way to school. It can help in saving precious time that you would otherwise spend on nebulizing them.
This machine is also made very simple and easy to use. You can even instill a sense of independence to your children by letting them operate it on their own.
In order to give you the maximum benefit of inhaling treatment, it contains mesh technology. It makes vapors of all the medicine solution. Furthermore, the vibrating mesh decreases the chance of medicine wastage.
If you are a person or a family who travels a lot, this nebulizer is the best option for you. If your child needs multiple treatments a day, again this is a great compressor to allow routine activities.
Buyer's Guide
Which features you expect from the best nebulizer for kids? Such questions might cross your mind when you search out the best possible machine for your child.
We understand your concern for your family and child's well being. So, we have tried to answer all the relevant questions in this guide. It will be a source of help in your journey of finding the best compressor.
Aspects to Consider Before Buying a Nebulizer
In this section, we will highlight the factors you need to reflect on while making the best decision for the nebulizer:
Concluding Thoughts
Nebulizers are considered as one of the most effective ways to treat respiratory illnesses. They efficiently send medications right inside the lungs.
It is not very simple to buy health-related equipment for your child. The major reason is you become excessively conscious and needs the best. Also, because of their inflexible behavior, you need a machine that helps in completing their medication dose.
In this piece, we have sorted out a list of 7 Best Nebulizers for your kids. It includes compressors from different categories to suit your requirements.
You shouldn't forget that it is important to discuss details with your doctor. As we have discussed previously, all of these machines are not compatible with all of your child's medications. You need to evaluate them separately.