The 4moms rockaRoo provides front to back gliding motion that babies love in a compact size. The smooth gliding motion of the rockaRoo soothes your baby like you do when comforting them in your nursery glider or rocking chair. 
It's sleek, modern design is one third the size of traditional swings so the rockaRoo looks great in your home.
4Moms RockaRoo Compact Baby Swing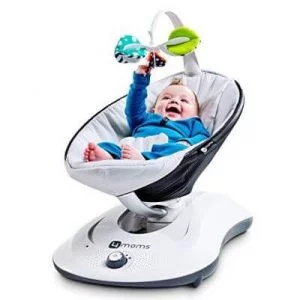 The new 4moms rockaRoo features a cool mesh fabric with a soft, breathable surface to maximize airflow and keep baby cool and comfortable.
The rockaRoo 4moms is designed with a back layer consisting of a 3D air mesh fabric that provides enhanced breathability and airflow, while the front layer is a smooth, nest-knit fabric that provides cooling comfort. The updated design features fresh and modern colors.
In rockaRoo 4moms overhead toy mobile reflects these updated colors with reversible, removable toy balls to keep baby entertained. The rockaRoo is an infant seat used to comfort, soothe and entertain your baby. It is not a sleeper, nor intended for overnight sleep since it is neither a flat surface nor a firm surface, as recommended by pediatricians. Never leave your child unattended.
Features
Product dimensions: 16.5 x 29.6 x 27.5 inches.
Product weight: 16.95 pounds.
Minimum weight recommendation: 6 Pounds.
Maximum weight recommendation: 25 pounds.
Power source type: Electric cord.
Removable seat fabric.
Five speeds.
Small size.
Big motion.
Machine washable seat fabric.
Toy mobile with reversible, removable toy balls, 3-point harness.
Tumble dry.